Tenga Dejaja.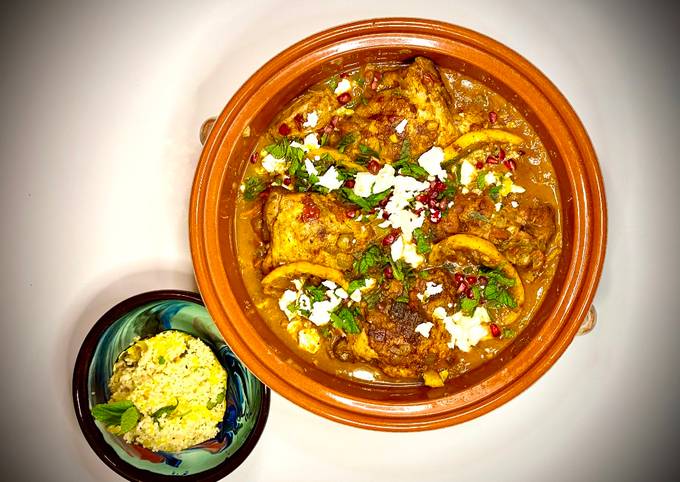 You can have Tenga Dejaja using 20 ingredients and 7 steps. Here is how you cook it.
Ingredients of Tenga Dejaja
Prepare 2 tbsps of olive oil.
It's 4 of organic, free range chicken thighs, skin on.
It's 1 of small gem squash.
It's 6 of spring onions.
It's 1 of garlic clove.
You need 3 tbsps of Ras el hanout.
Prepare 3 of fresh dates, stone removed and sliced.
You need 1 of small preserved lemon, flesh removed and finely chopped.
Prepare 3 of medium tomatoes, deseeded and chopped.
It's 60 ml (1/4 cup) of chicken stock.
Prepare 4 of tok amra.
It's 1 tbsp of date nectar.
It's 1 tbsp of macadamia nuts, roughly chopped.
It's 2 of tsps cider vinegar.
You need 100 g (3.5 oz) of couscous.
You need of small bunch mint, leaves only, shredded.
Prepare 1/2 of lemon, thinly sliced.
Prepare 1 tbsp of pomegranate seeds.
You need 50 g (2 oz) of feta, crumbled.
It's of freshly ground salt and pepper.
Tenga Dejaja step by step
Turn the oven on and heat to 180 degrees C, 350 degrees F, Gas mark 4. Heat 1 tbsp oil in a skillet. Season the chicken and cook, skin-side down, for 10 mins until brown, flip over and cook for a further 5 minutes. Transfer to a plate..
Cut the gem squash in two, remove the seeds and boil for 20 minutes..
Chop the spring onions and garlic and add to the skillet. Stir for a few mins, then add the spice mix. Stir until the spices become aromatic then add the dates, preserved lemon, tomatoes, stock, tok amra, date nectar, macadamia nuts, vinegar and ½ litre water. Bring to the boil, place the chicken on top, cover with a tight lid, lower the heat and simmer for an hour..
Score the gem squash flesh, season and add a splash of oil. Roast in the oven for 20 minutes. Make the couscous according to the instructions..
Uncover the chicken, place the lemon slices on top and cook for a further 10 minutes until the sauce reduces and becomes thick..
Scrape out the flesh from the squash with a spoon, chop and add to the couscous with half the mint and a few grinds of salt and pepper and place back into the squash halves..
Scatter the pomegranate seeds, feta and mint over the chicken and serve with the stuffed squash..