Mini apple pies. Pillsbury™ Mini Apple Pies come together fast with a Pillsbury™ pie crust cut into rounds and pressed into a muffin cup. Stir the mixture again, and spoon into the pie shells. Use the strips of dough to weave a small lattice crust on top of each pie, and pinch the strips onto the bottom crust.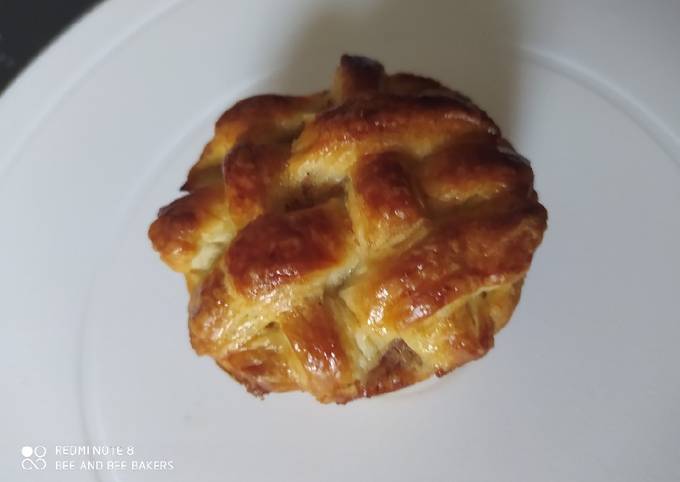 Press dough rounds into muffin pan sprayed with no stick cooking spray. In medium bowl, stir together apples, sugar, flour, cinnamon and vanilla. You can decorate them anyway you like with extra crust, or just leave plain. You can have Mini apple pies using 6 ingredients and 5 steps. Here is how you cook that.
Ingredients of Mini apple pies
You need of Green apple peeled and sliced.
It's 1 of tspn cinnamon.
It's 1 of tspn sugar.
Prepare 1 of tspn flour.
Prepare of Juice of half orange.
Prepare of Pastry dough (used leftover).
Mini Apple Pies My kids set up an assembly line when making these snacks—one chops the apples and mixes the filling, one rolls out the biscuits, and one puts the pies together. —Marsha Dingbaum, Aurora, California Mini Apple Pies Recipe photo by Taste of Home Peel the apples and chop them into thin slices. Place the apple slices in a medium bowl. In a large mixing bowl, mix together the chopped apples, sugar, flour, ground cinnamon, vanilla extract, and ground nutmeg until fully combined. Melt butter in a large skillet over medium.
Mini apple pies instructions
Mix cinnamon, sugar, flour,sliced apples and orange juice.
In a cupcake pan grease and aline the cut dough on the baking tin.
Add the filling and seal and egg wash.
Bake in a pre heated oven for 20 min or until it's brown.
Let them cool and enjoy.
Add apples, brown sugar, lemon juice, cinnamon, and salt. Add a bite-sized twist to a dessert classic with this perfectly poppable recipe for Muffin Tin Mini Apple Pies starring a quick-fix homemade pie dough. They're like little packets of comfort food that you can hold in your hand, almost like a cookie. They're warm and sweet, with an irresistibly flaky crust. Guaranteed to put a smile on your face on a cold, drizzly day!