Vickys Scottish Iced Pineapple Cream Tarts, GF DF EF SF NF.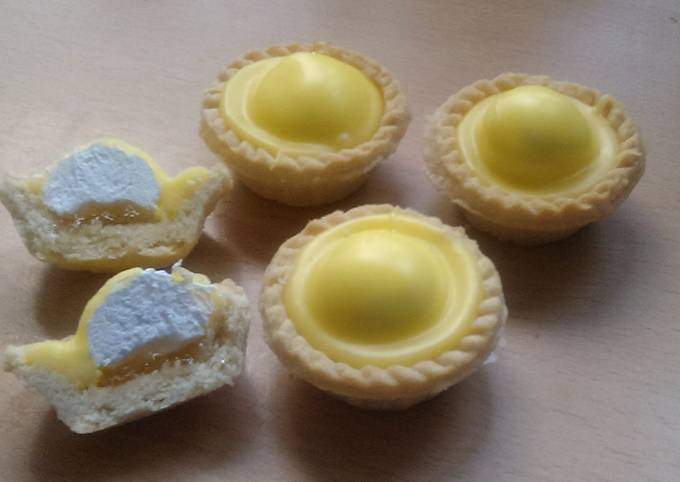 You can have Vickys Scottish Iced Pineapple Cream Tarts, GF DF EF SF NF using 6 ingredients and 15 steps. Here is how you achieve it.
Ingredients of Vickys Scottish Iced Pineapple Cream Tarts, GF DF EF SF NF
It's 400 grams of unsweetened shortcrust pastry, see my recipe link below.
It's 600 grams of can of crushed pineapple / pineapple chunks in pineapple juice.
Prepare 300 ml of coconut cream / double (heavy) cream.
You need 350 grams of icing sugar / powdered sugar.
Prepare 100 ml of pineapple juice drained from the can.
You need of yellow food colouring.
Vickys Scottish Iced Pineapple Cream Tarts, GF DF EF SF NF instructions
Chill the pastry for half an hour before you begin https://cookpad.com/us/recipes/332957-vickys-sweet-savoury-shortcrust-pastry-gf-df-ef-sf-nf.
Preheat the oven to gas 6 / 200C / 400°F.
Roll out the pastry large enough to line 18 individual tart tins or a 9 or 10 inch loose bottomed tart tin. I use the fluted edge of a large cookie cutter to make the individual rounds.
Prick the pastry bases lightly all over with a fork, line with a circle of parchment paper and pour in some ceramic baking beans or dry rice.
Bake blind for 20 minutes then remove the baking beans/rice and parchment and bake for a further 5 minutes or until the pastry is golden.
Let cool and if you're not using loose bottomed tins, release the pastry now before you fill them.
Meanwhile, drain the canned pineapple, reserving 100mls of the juice. Put the juice in a small saucepan.
If your pineapple is in chunks, crush it with a fork or potato masher and drain off any more juice that comes out. Give it a squeeze in your hand to get most of the juice out and set aside.
Bring the juice to boil in the pan.
Put the icing sugar in a bowl and add in a quarter of the boiled juice, mixing well.
Keep adding the juice a little at a time until the icing is thick, not very pourable but spreadable. Add a few drops of the food colouring to make the icing a pretty pineapple yellow colour and set aside while you fill the pastry cases.
When the pastry cases are cool, split the crushed pineapple between them evenly and lightly press into the base of each.
Whip the cream and spoon on top of the crushed pineapple. Smooth over neatly but leave a mound in the middle like a hill. I use my finger for this, it's easier to mould the cream this way.
Spoon the cooled icing carefully over the whipped cream and let set for an hour.
Serve immediately. The pineapple will begin to soften the pastry bases within 24 hours if not drained well enough these are best eaten the day you make them. They won't be so soggy that you won't enjoy them though.