Banana/carrot or apple no grain muffins. This is a paleo-friendly favorite for those wanting to reduce grains and cut out refined sugar. Add the dry ingredients to the wet ingredients and gently combine. Stir in the apples and raisins.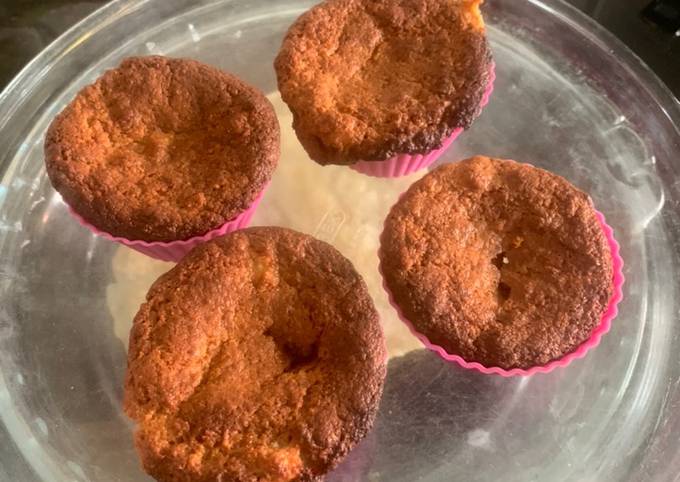 Fold through the apple, carrot, oats, almond meal, flour, oats, cinnamon, salt, almond meal and baking soda and mix just until combined. Paleo carrot cake banana muffins are a lovely mashup of carrot cake and banana bread. Grain-free, oil-free and sweetened only with banana! You can have Banana/carrot or apple no grain muffins using 12 ingredients and 4 steps. Here is how you cook it.
Ingredients of Banana/carrot or apple no grain muffins
Prepare 1 1/2 of bananas mashed.
Prepare 1/4 cup of coconut oil melted.
It's 1/4 tsp of vanilla powder.
Prepare 1/4 tsp of cream of tartar.
It's 1/4 tsp of baking powder.
Prepare 1/2 cup of almond flour.
You need 1 of egg.
It's 1/2 tsp of cinnamon.
It's 1/4 tsp of ginger.
Prepare 1/2 tsp of nutmeg.
It's 3 tbsps of coconut flour/ cassava flour.
Prepare 1 tbsps of water.
How to Cook Banana, Apple, and Carrot Muffins Heat a pan over low heat, then add the apple and carrot. Transfer the mixture to a measuring glass and puree it with a hand blender. Once you have prepared all your ingredients (grated carrots & apples, mashed bananas, chopped nuts), preheated the oven and greased a muffin tray, then making the muffins can be done in four easy steps: Mix the wet ingredients together (milk, egg, apple puree, grated carrot, grated apple, mashed banana, coconut oil) in a large mixing bowl. Mix first four dry ingredient together in a small bowl.
Banana/carrot or apple no grain muffins step by step
Combine dry ingredients.
Combine wet ingredients.
Put wet and dry together, pour into muffin cases. Bake 25-30 mins at 180c.
Try adding 1 grated carrot and 1/8 cup of chopped walnuts and 1/2 banana; or 3 tbsps of apple purée, or 2 grated apples and 1/8 cup of chopped up pecans and 1/2 banana ; or 1/2 banana and a large handful of blueberries.
Beat together oil, sugars, eggs, milk, and vanilla in a large bowl. Add the dry mixture to the wet mixture until well combined. In a large bowl, mix together the almond flour, baking soda, salt, cinnamon and coconut. In another bowl, whisk the eggs, bananas, melted coconut oil, honey, vanilla and vinegar together, making sure that the oil is well incorporated into the other ingredients. Stir the wet ingredients into the dry ones.