Crispy Wafer Thin Sourdough Crackers. Crispy Snack With No Artificial Flavors Or Colors. Available In Sea Salt & Ranch Flavors. The Light, Flakey, Buttery Flavor You Love About Club® Crackers Now In A Thin Crisp!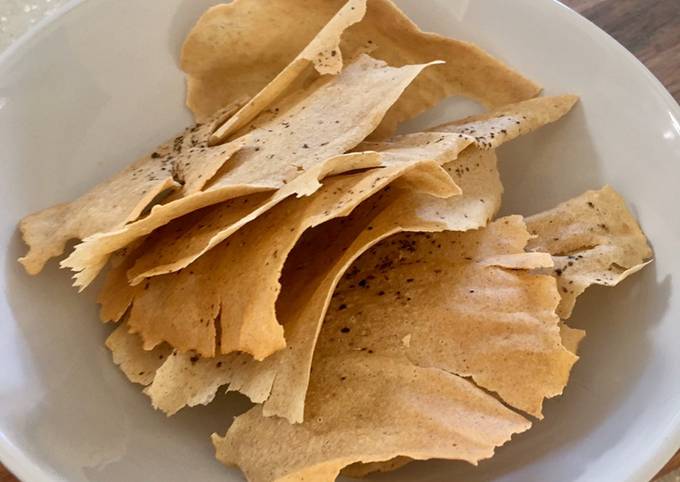 Consider this your new "no-waste" recipe when it comes to sourdough baking. Stir down your sourdough discard (if there is any "hooch" on the top, pour it off). Add ¼ teaspoon salt and your seasoning of choice. You can have Crispy Wafer Thin Sourdough Crackers using 3 ingredients and 3 steps. Here is how you cook it.
Ingredients of Crispy Wafer Thin Sourdough Crackers
It's 1/2 cup of sour dough starter (mine is made with buckwheat flour).
You need 1/4 cup of gram flour.
You need To taste of Salt and pepper powder.
Lightly brush with oil and then sprinkle the salt over the top of the crackers. Prick each square with the tines of a fork. Sourdough Crackers are light, crispy crackers that are easy to make and a perfect way to use up that extra sourdough starter! They are great topped with cheese, dipped in hummus, or simply eaten plain!
Crispy Wafer Thin Sourdough Crackers step by step
Mix the starter and the gram flour and add just enough tepid water to made a thick batter..
Line a baking tray with parchment paper and use a spatula to spread a really thin layer of the batter. Season with salt and pepper (or your seasoning of choice)..
Bake at 170 C for about 5 minutes then once they looks dry, carefully peel the crackers away from the paper. Once they're loose put them back in the oven for another 5 mins or until they are dry and crispy..
For another tasty way to use your starter, try my Sourdough Pretzels and Sourdough Popovers! You'll never throw away sourdough starter again once you've tried these ultra thin and crispy olive oil crackers, seasoned with herbs de Provence and finished with flake sea salt. These homemade sourdough crackers are the perfect snack all on their own, or, for an extra treat, spread with soft cheese and top with a dollop of homemade jam. Place the crackers on a parchment paper lined baking sheet and lightly brush with water and sprinkle with flaky sea salt, if desired. Let cool completely before cracking into irregular shaped pieces and enjoying!