Garlic Sourdough Soup Croutons. These homemade garlic sourdough croutons are so easy to make and have so much flavour. They are perfect on top of salad or creamy soup. We used freshly chopped rosemary and garlic powder, but you can also season them with onion powder or onion soup mix, chicken salt, Cajun spice blend, any kind of dry herbs, cumin or paprika, pepper and the list goes on.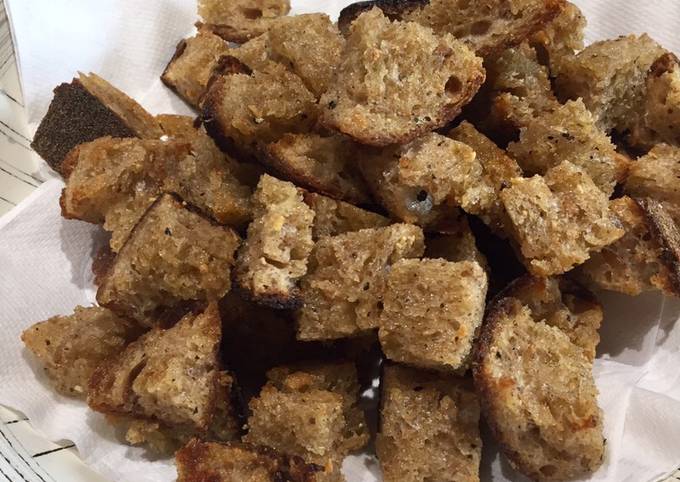 Drizzle a tablespoon of oil around the outside of the bowl, toss well with a wooden. Spread the oiled bread cubes onto the parchment-lined baking sheet and sprinkle with garlic powder, seasoning salt and the pepper. Remove from the oven and cool on the baking sheet. You can have Garlic Sourdough Soup Croutons using 4 ingredients and 3 steps. Here is how you cook that.
Ingredients of Garlic Sourdough Soup Croutons
You need 250 g of sourdough bread.
It's 2 of garlic cloves, crushed.
You need 4 tbsp of olive oil.
It's of Salt and pepper.
Cook over low, stirring occasionally until the garlic begins to color. In a large bowl, toss the cubed bread, melted butter, garlic powder, and minced garlic until combined. Pour the butter and garlic coated croutons onto a rimmed baking sheet and spread out until somewhat evenly spaced. Start with naturally leavened sourdough bread, then bake in garlic, sea salt, and olive oil.
Garlic Sourdough Soup Croutons instructions
Cut the bread into 1 inch cubes. I like to keep them rustic with the crusts left on..
Heat the oil and garlic in a frying pan for a few minutes then add the bread cubes and coat them well with the oil. Drizzle a bit more oil on them if they look a bit dry..
Let the croutons pan fry for a few minutes then transfer them to a baking tray. Roast at 190 C until crunchy, turning regularly so they don't catch and burn..
Crispy, crunchy, and crazy good on top of soup. (We suggest Tomato Basil. Or…) These babies are deliciously addictive on anything. Heat garlic and oil over low heat and melt butter into the oil. Place the bread in a large bowl and toss with garlic oil and butter. Season with pepper, Parmesan and thyme.