Sunday Roast (Beef) with all the trimmings.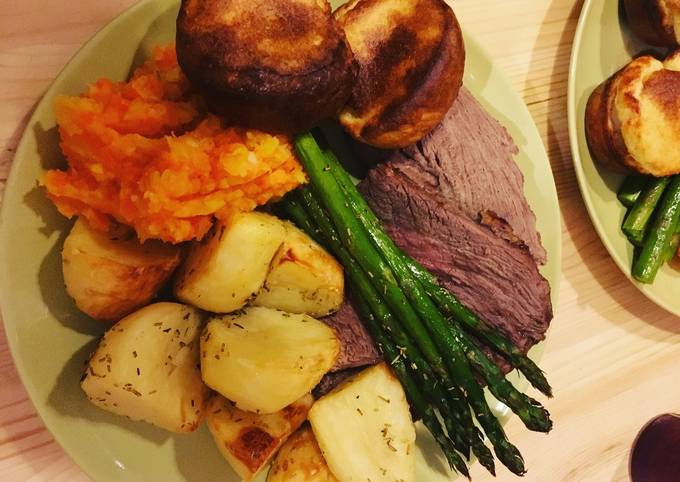 You can cook Sunday Roast (Beef) with all the trimmings using 24 ingredients and 12 steps. Here is how you cook that.
Ingredients of Sunday Roast (Beef) with all the trimmings
Prepare of Roast -.
It's 1.5 kg of roast beef joint.
It's of Plentiful amount of Tesco's Chicken and Steak Seasoning.
It's of Or pinch of garlic, coriander, paprika, and black pepper.
You need of Roasting dish.
You need of Spray oil.
Prepare of Tinfoil.
You need of – Veg: Carrot and Swede Mash, Asparagus -.
It's 3 of carrots.
You need 2 of parsnips.
It's 1 of swede.
It's 20 g of slightly salted butter.
You need 500 g of asparagus.
It's of – Roasting potatoes -.
You need 750 of g-1kg of roasting potatoes.
Prepare of – Yorkshire Puddings -.
You need 100 g of plain glour.
It's 1 of medium free range egg.
Prepare 175 ml of milk.
Prepare of – Extras -.
Prepare of Salt.
It's of Rosemary.
You need of Olive Oil.
Prepare of Bistro Beef Gravy.
Sunday Roast (Beef) with all the trimmings instructions
Preheat the oven to 200*C fan. Spray the bottom of the roasting tin/dish with oil..
Rub the spices all over the beef, making sure to evenly coat it. Place the beef in the roasting dish and cover the whole dish with tinfoil. Place in the preheated oven to cook for 1 hr 30min, but be sure to take the tinfoil off with 15 minutes to go. This timing will make a medium-rare roast. Adjust your timing accordingly..
While the roast is in the oven, prepare all the vegetables. For the potatoes, peel and chop in half. Boil them for 20minutes..
While the potatoes are boiling, peel and chop the carrots, swede, and parsnips into inch pieces. Set aside..
Prepare the Yorkshire Pudding mixture. Combine the flour, egg, and milk. Whisk until mixed through. Pour into 8-12 cupcake tins. Set aside..
When you can pierce the potatoes easily with a form, drain them from the water. Place them into a roasting tin and cover them with olive oil, pinches of salt, and pinches of rosemary. When there is about an hour left on the roast: Pop the potatoes into the oven with the roast for 45minutes. Be sure to turn them every 10-15minutes to make most of the potatoes nice and brown..
While the potatoes are roasting. Begin to boil the carrots/parsnips/swede for about 30minutes, until very fork tender..
Now is a good time to cook up the asparagus! I like to roast them. So place them in a roasting dish and cover them with olive oil, salt and, rosemary. Put them in the oven (for 15minutes) to roast when there is 15 minutes left for the beef to cook! Rotate the asparagus occasionally..
Put the yorkshire puddings in the oven now (about 12minutes left on the roast) Be sure to give them room to rise. They should take between 9-13minutes to rise and set. We burnt ours a little! Whoops!.
By now the carrots/swede/parsnips should be ready to mash! Drain the water out and place them in a bowl. Mash together with a 20 grams of slightly salted butter. Some people also add in a dash of milk, but as we are allergic we avoid it..
By now the oven should be beeping and demanding your attention 🙂 Check the asparagus, yorkshires, potatoes, and beef are properly cooked. You should be able to put a fork in the asparagus, the yorkshires will have risen and browned slightly (we burnt ours a bit!), the potatoes should like nice and brown, and the beef should be pink in the middle (if rare)..
Serve up and enjoy! We ended up using store bought bistro gravy, but homemade is always better! I will put up a recipe soon for it..