Mandys fajita chicken and rice. I made this for dinner tonight. It was quick and easy and tasted great. I followed the recipe with the addition of a tsp of garlic salt and pepper in with the chicken while browning I also added a can of black beans and some frozen corn to the rice when I added the chicken back in.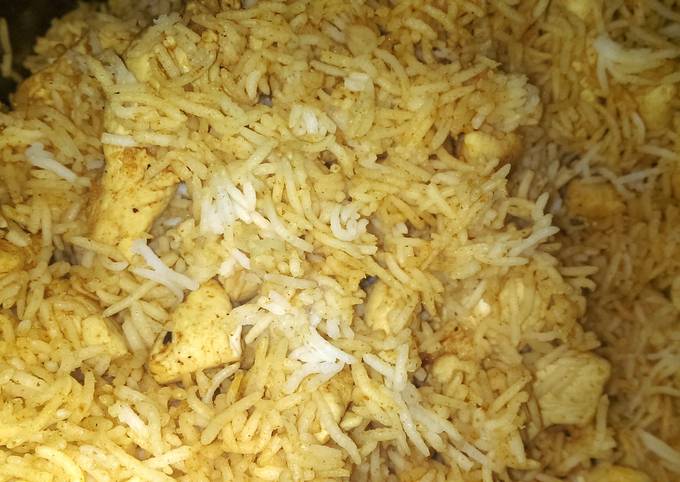 Cook until chicken is no longer pink. Drain as needed and add this to the prepared casserole dish. Add cooked rice, cream of chicken soup, sour cream, rotel, and fajita seasoning to your casserole dish and mix together well. You can cook Mandys fajita chicken and rice using 5 ingredients and 6 steps. Here is how you achieve it.
Ingredients of Mandys fajita chicken and rice
It's 2 cup of rice.
You need 500 ml of water.
You need 5 large of chicken breast.
It's 2 envelope of fajita seasoning mix.
You need 1 tbsp of oil.
Cook chicken breast over medium heat until mostly done, remove from heat and allow to cool until it can be comfortably handled. Add chicken and onion back to pan. Add the chicken broth, sour cream, chicken, diced chiles, lime juice, seasonings (salt, cumin, chili powder). Cook the rice in chicken or vegetable broth with a pinch of saffron, salt, and pepper.
Mandys fajita chicken and rice step by step
Put rice and water into a rice cooker and turn it on and let it do its thing.
Slice the chicken breast into strips or chunks (Ur preference).
Add oil into frying pan and heat slightly, put in cut chicken and cook until there is no pinkness in the chicken.
Add 1 envelope of fajita seasoning (I prefer the hot variety) to the pan and coat the chicken well.
Once rice is cooked put it into a large mixing bowl and pour in the chicken, mix well and finally add the second envelope of seasoning and ensure all the rice is coated..
Can be served hot or cold.
In a separate skillet or dutch oven sauté chicken and bell peppers with some fajita seasonings. You can also add some chipotle chili powder for extra spiciness (and heat!). Once the chicken is completely done toss in the saffron-colored cooked rice. Heat the oil in a heavy bottomed skillet (preferably not non-stick) over medium-high heat. Add the peppers and onions and cook, stirring occasionally until the peppers and onions are charred and blistered.