Qeema Palak !.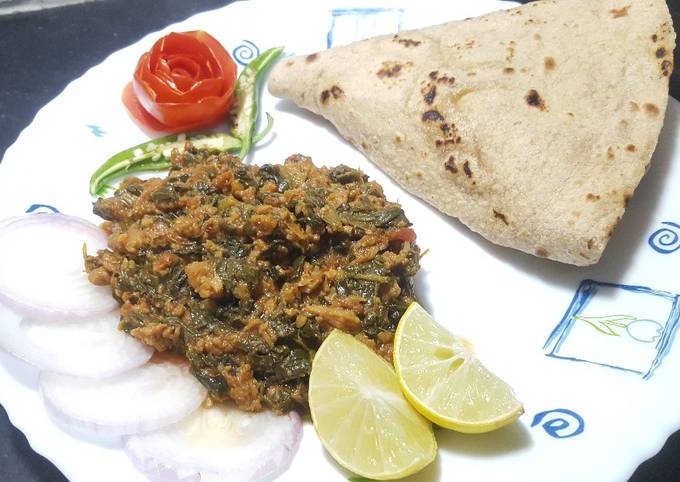 You can cook Qeema Palak ! using 17 ingredients and 7 steps. Here is how you achieve it.
Ingredients of Qeema Palak !
You need 500 gms of beef mince (preferably hand mince not machined).
You need 2 cups of spinach (chopped).
You need 1 cup of fenugreek leaves.
Prepare 2 of medium onions (sliced).
Prepare 3-4 of medium tomatoes (sliced).
It's 1 n half tbsp of Red chilli powder.
You need 1 tsp of turmeric powder.
It's 1 tbsp of coriander powder.
Prepare 1/2 tsp of whole spice powder.
Prepare of To taste salt.
You need 1 tsp of cumin seeds.
It's 4-5 of black pepper corns.
You need 3 of cloves.
You need 2 of cinnamon sticks (1 inch pcs).
You need 1 n half tbsp of ginger garlic paste.
It's 3 of green chillies (slits from the centre).
Prepare 4-5 tbsp of oil.
Qeema Palak ! step by step
Heat oil in a pot n add cumin seeds, cinnamon sticks, black pepper corns n cloves. N let them crackle for a while..
Now add sliced onions to it n fry until golden brown.. then add ginger garlic paste n saute for a minute..
Now add beef mince to it along with salt n turmeric powder. Fry it until mince's water dries up..
Now add tomatoes with red chilli powder & coriander powder.. mix it well, cover the lid & let it cook until tomatoes becomes tender….
Now when water dries up, bhunofy it with whole spice powder n green chillies until oil seperates..
Now add spinach & fenugreek leaves, mix it n cover the lid..
Let it cook until water dries up.. serve it with Naan, chapati or paratha. Enjoy !.