Beef Stew – Pressure Cooker Method.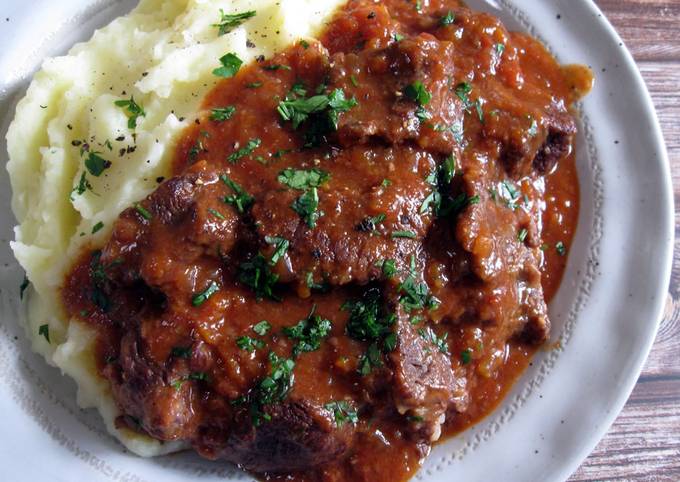 You can cook Beef Stew – Pressure Cooker Method using 17 ingredients and 8 steps. Here is how you cook it.
Ingredients of Beef Stew – Pressure Cooker Method
You need 800 g of Casserole Beef *cut into 4 to 5cm pieces.
Prepare of Salt & Pepper.
Prepare of Plain Flour.
Prepare 2 tablespoons of & extra Olive Oil *OR Butter instead.
It's 1-2 cloves of Garlic.
It's 1 of Large Onion.
You need 1 of Celery Stalk.
Prepare 1 of Carrot.
It's 1 cup of Red Wine.
It's 1 cup of Beef Stock OR Water.
It's 1 of Canned Tomatoes *400g.
Prepare 1 of Bay Leaf.
Prepare 1-2 teaspoons of Thyme Leaves.
Prepare 1 tablespoon of Worcestershire Sauce (Lea & Perrins).
It's 1-2 teaspoons of Sugar.
It's of Salt & Pepper.
You need of Parsley.
Beef Stew – Pressure Cooker Method instructions
Cut and slice all vegetables finely..
Season the beef pieces with Salt and Pepper, coat with Plain Flour very well..
Heat 1 tablespoon Olive Oil in a pot over medium heat. Cook beef, turning over occasionally, until browned. Transfer to a bowl. Repeat with 1 tablespoon Oil and remaining beef..
Add extra Oil and cook vegetables for a few minutes, add Red Wine, Beef Stock and Tomatoes and stir..
Return the browned beef to the pot, add Bay Leaf and Thyme, cover with lid and bring it to the boil over high heat..
Reduce heat to low and simmer for about 20 minutes under pressure. If you don't have a pressure cooker, just simmer over low heat for a few hours or until beef is tender..
Remove the lid, add Worcestershire Sauce. Add Sugar if required, then season with Salt and Pepper to taste. Simmer further 5 to 10 minutes until the sauce thickened..
Serve with mashed potatoes, boiled potatoes, couscous, polenta or nice crusty bread..