Stuffed Paratha (Indian Bread).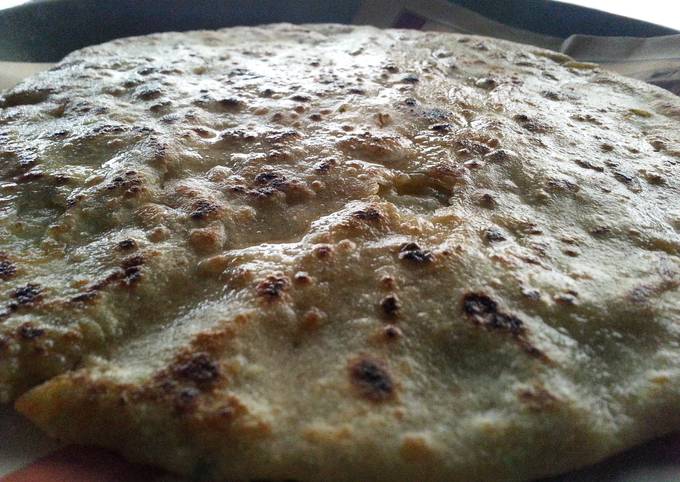 You can cook Stuffed Paratha (Indian Bread) using 11 ingredients and 13 steps. Here is how you achieve it.
Ingredients of Stuffed Paratha (Indian Bread)
Prepare 1 small of Cauliflower.
You need 2 cup of boiling water.
It's 1 tbsp of oil.
It's 1/2 tsp of turmeric powder.
It's 2 tsp of salt.
Prepare 1 tsp of chili powder.
Prepare 4 medium of potatoes.
Prepare 1 medium of green chili finely chopped.
It's 5 cup of wheat flour.
It's 2 cup of water.
You need 1 tsp of salt.
Stuffed Paratha (Indian Bread) step by step
For the cauliflower sruffing, cut 1 small cauliflower into florets and let is stay in boiling water for few minutes till tender but firm.
Place the tender florets on a cutting board and chop it coarsely.
Heat a wok or pan on medium flame and throw in the chopped florets. Add some oil and let it stay for a few minutes.
Add salt to taste and a teaspoon of chilli powder. You can add some turmeric powder if you wish. Mix all the items and let it stay till most of the water evaporates from the cauliflower. Keep aside when almost dry and done..
For the potato stuffing, boil 4 medium potatoes. Peel them and mash them coarsely and add salt, chili powder and turmeric. You can add finely chopped green chili if you wish.
Keep aside both the stuffings..
Mix 5 cups wheat flour with 1 spoon salt.and mix gently adding some water at a time. Make a dough that can be kneaded into rotis. Keep aside..
Make 3 small balls about 2.5 inch dia and keep the remaining dough aside..
Make a cup shape and fill generous amount either of the stuffing. Roll it flat to about 7mm thick..
Put the roti into a pan on med-high flame and let it stay for about a minute..
Flip it over and now brush some oil on this surface..
After over a minute, flip it over again and brush oil..
Serve HOT with pickle, curd, curry or all of these..