Use-up Chicken & Leek Pie.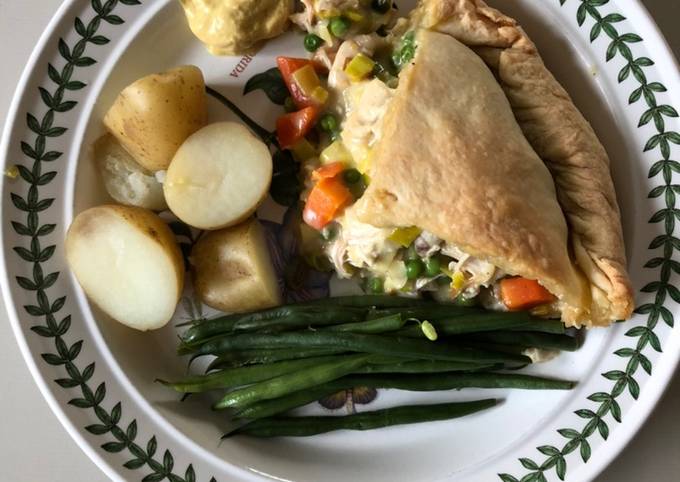 You can have Use-up Chicken & Leek Pie using 11 ingredients and 8 steps. Here is how you achieve that.
Ingredients of Use-up Chicken & Leek Pie
It's 1 of carrot, diced.
Prepare of Salt.
It's 75 g of frozen peas.
Prepare 1 of large knob butter.
Prepare 1 of leek, finely sliced.
It's 1 tbsp of plain flour (plus some for dusting pastry).
It's 250 ml of milk.
Prepare 1 of chicken stock cube (I use a Knorr Stock Pot).
You need 350 g of Roast chicken, diced.
Prepare of Ground black pepper.
Prepare 500 g of readymade shortcrust pastry (I used JusRol chilled).
Use-up Chicken & Leek Pie instructions
Boil the carrot in salted water, adding the peas for the last 3-4 minutes. Drain and set aside..
In a wok or largish frying pan fry the leek until softened in the butter. Remove from heat, stir in the flour, add the stock pot/cube and very gradually add the milk, stirring continuously to prevent lumps forming. Return to heat to thicken the sauce, still continuously stirring. Remove from heat..
Add the cooked vegetables and chicken and stir well to mix. Season to taste..
Pre-heat oven to Gas Mark 6 or electric equivalent (Circotherm 170C)..
Split the pastry block two-thirds/one-third and grease a pastry dish..
Roll out the larger pastry piece and use it to line the pastry dish base. Fill with the chicken etc. Then roll out the smaller pieces and use it to top the pie. Crimp the edges to seal and make two or three small slits in the centre to allow the steam to escape..
Heat in the oven for 40-45 minutes or until the pie is cooked..
Serve with your choice of vegetables. We had new potatoes and French beans today. A little Dijon mustard goes well..