Venison and chestnut casserole.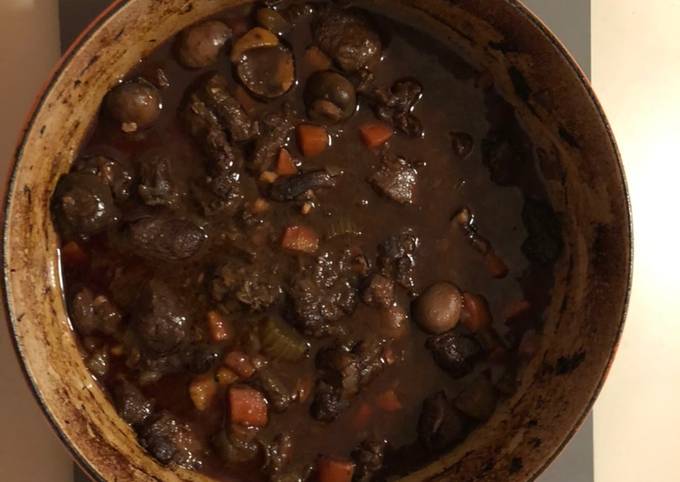 You can cook Venison and chestnut casserole using 14 ingredients and 15 steps. Here is how you cook that.
Ingredients of Venison and chestnut casserole
It's 2 tbsp of butter or other cooking fat.
You need 1 kg of venison, diced.
You need 150 g of smoked lardons or chopped bacon.
You need 375 ml of red wine (I tend to use Côte de Rhône).
It's 125 ml of port.
Prepare 5 cloves of garlic, chopped.
Prepare 4 of red onions, in full slices.
Prepare 4 of carrots, diced.
You need 3 sticks of celery, largish slices.
It's 2 of bay leaves.
Prepare 2 sprigs of thyme.
You need 1 tbsp of tomato purée.
Prepare 200 g of chestnuts, pre-cooked.
It's 1/2 litre of fresh stock, venison stock ideal but can be whatever you have in fridge: foraging begins at home!.
Venison and chestnut casserole step by step
Prep the ingredients.
Preheat oven to Gas Mark 2/150C. My fan oven needs 140C.
Heat the butter in a large casserole (I use our old Le Creuset pan) and fry the lardons.
Using a slotted spoon, set the lardons aside and fry the diced venison, not too much at a time, and set aside with slotted spoon..
Add the wine and bring to boil, stirring bottom of casserole to release any sediment. Add the port and bring back to boil and keep boiling for one minute..
Add the garlic, onions, celery, carrots and mushrooms. Stir well..
Add the bay leaves, thyme and tomato purée. Give it another quick stir..
Add the stock. You need to just cover the other ingredients so you might need slightly more or less stock..
Once simmering, cover and put in pre-heated oven..
After 1 1/4 hours, remove from oven, stir gently and add the chestnuts..
Return to oven for another hour..
Check for liquidity and add a little more stock or water to prevent drying out. However, if it's too liquid-y then simply take the lid off for the last 30 minutes or so..
Remove from oven, stir gently, check that the venison is nice and tender..
Taste and add any desired seasoning..
Serve with desired accompaniments. I always have potatoes and choose from red cabbage, Brussels sprouts, parsnips, even more carrots. Any winter vegetables go well with this dish..