Warm salad: squash, green beans and rocket. A salad with a zing from Jenny Bristow. Our season of squash is becoming longer and longer with an array of colourful vegetables from early autumn right through to the early winter months from pumpkins, acorn and butternut squash which fill our supermarket shelves. This warm millet salad recipe is the coziest salad around.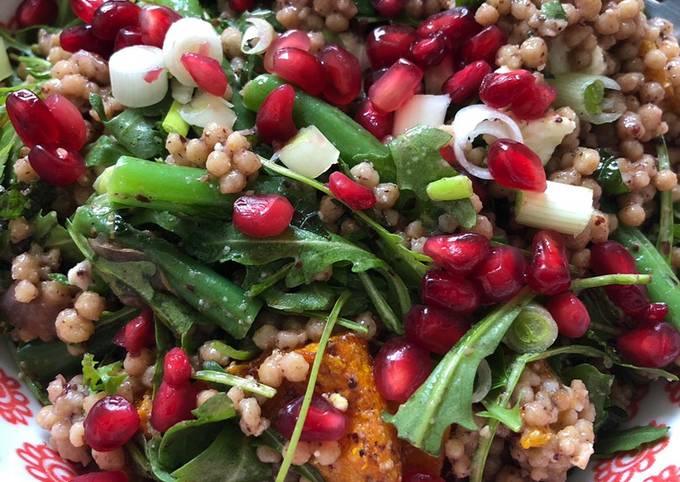 While the squash is roasting, make the vinaigrette. Heat the remaining oil in a small pan. Add the garlic, keeping the heat low, and cook until golden. You can cook Warm salad: squash, green beans and rocket using 19 ingredients and 9 steps. Here is how you cook that.
Ingredients of Warm salad: squash, green beans and rocket
It's of For the squash.
It's 1/2 of squash, peeled and chopped.
It's 1 tbsp of olive oil.
Prepare 1 tsp of za'atar.
It's of For everything else.
You need 1 tbsp of olive oil.
Prepare 1 of onion, peeled and chopped.
You need 2 cloves of garlic, peeled and crushed.
It's 1/2 cup of – full not just to the line – of grains eg giant couscous or maftool or freekeh.
You need 1/2 tsp of ground all spice.
You need 300 ml of stock.
Prepare 1/2 cup of green beans, topped and tailed and cut into 2-3cm lengths.
It's 1 tbsp of sumac.
It's of Juice 1/2 lemon.
Prepare 2 tbsp of fresh mint, finely chopped.
You need 1-2 tbsp of fresh parsley, finely chopped.
Prepare 3-4 handfuls of rocket.
You need of Some feta if you want.
It's of Salt and pepper.
Divide the squash between the plates and drizzle with the vinaigrette. These warm salad recipes will leave you feeling fuller for longer and will warm you all the way through too. This hearty chicken, lentil and butternut squash salad would be the perfect option for lunch as well as dinner. Sunblushed tomatoes, white beans and rockets make the base of this tasty salad.
Warm salad: squash, green beans and rocket instructions
Preheat the oven to 180C. In a bowl, toss the squash in the oil and za'atar. Put onto a baking paper- lined baking tray and roast for 25 mins or so until the squash starts to soften..
In a large pan (with a lid for later), heat the oil. Add the onions and sauté for 10-15 mins until they are soft..
Add the garlic and all spice. Sauté for 2-3 mins..
Add the grains and stock. Cover and simmer until cooked – about 20 mins. The time will depend on the grain. All the liquid should be absorbed. If it starts to dry out, add a splash or two of water..
Bring a (different) pan of water to the boil. Add the beans and cook until tender but crunchy – about 4 mins. Drain..
When the grains are ready, stir through the sumac, lemon juice, mint and parsley..
Add the beans and squash and mix. Then the feta if using..
And finally stir the rocket through. Season and drizzle with olive oil..
If you have pomegranate and/ or spring onions, use them as a garnish. Enjoy 😋.
This roasted butternut squash salad with rocket leaves, prosciutto, pecorino and a gorgeous balsamic dressing is easy to make and beautiful to eat Warm salad of roasted squash, prosciutto and pecorino. Swap your cold greens for one of these warm, hearty salads you'll want to eat on even the coldest days. Just because it's winter doesn't mean we're not still craving salads—we're just not all that interested in eating them cold. So we turn to warm roasted veggies, cooked grains, pan-grilled meats. The green beans and corn are given a quick blanch using a kettle of boiling water just to brighten the colors but keep the crunch.