Kiddylicious sugar-free smores.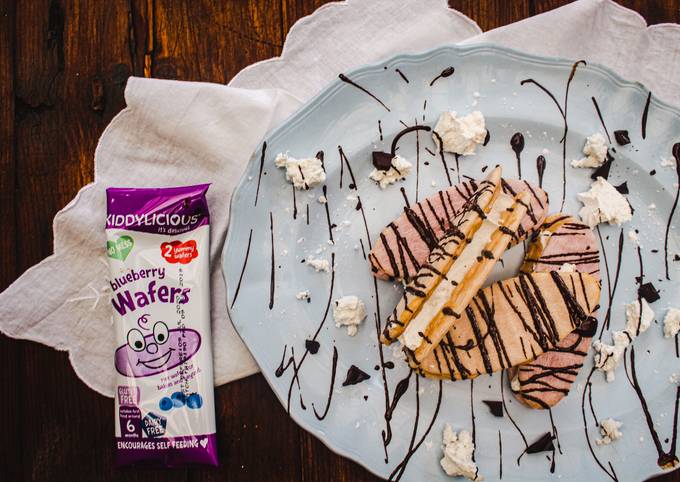 You can cook Kiddylicious sugar-free smores using 12 ingredients and 8 steps. Here is how you achieve it.
Ingredients of Kiddylicious sugar-free smores
You need of Marshmallow.
You need 10 g of xylitol icing sugar.
You need 10 g of powder gelatin.
You need 1/4 cup of cold water.
You need 1 cups of xylitol of sugar.
It's 1/4 cup of additional water.
It's 1 teaspoon of Vanilla essence.
It's of Assemble.
You need 10 packets of Kiddylicious blueberry or strawberry rice wafers.
You need 1/2 cup of peanut butter.
You need of Garnish.
Prepare 80 g of dark chocolate.
Kiddylicious sugar-free smores step by step
Marshmallow: Dust a non-metal bread tin with xylitol icing sugar.
In a mixing bowl combine together the gelatin and 1/4 cup cold water. Allow this to sit while you continue to work..
In a pot combine together your xylitol and 1/4 cup water. Bring to a slight simmer for about 10 minutes..
Remove this from heat and stir in the vanilla essence.
Start slowly whisking gelatine and water mixture with an electrical mixer (stand mixer – whisk attachment or hand mixer). Gradually pour the sugar syrup into the gelatine mixture. Allow the mixture to double in size while continuously mixing (takes about 7-10 minutes in the mixer). Once the mixture has doubled in size, you can pour it into your dusted bread tin. Spread with a spatula on the top.
Leave outside to set. Once firm cut into 20 slices. Store in airtight container for 1 month outside of fridge..
Assemble: Spread a 1/2 teaspoon of peanut butter on each Kiddylicious rice wafer. Place a sliced marshmallow between two Kiddylicious rice wafers..
Garnish: In a pot, on low heat, melt the chocolate. Drizzle the chocolate over your Kiddylicious smores..