Palak Paneer.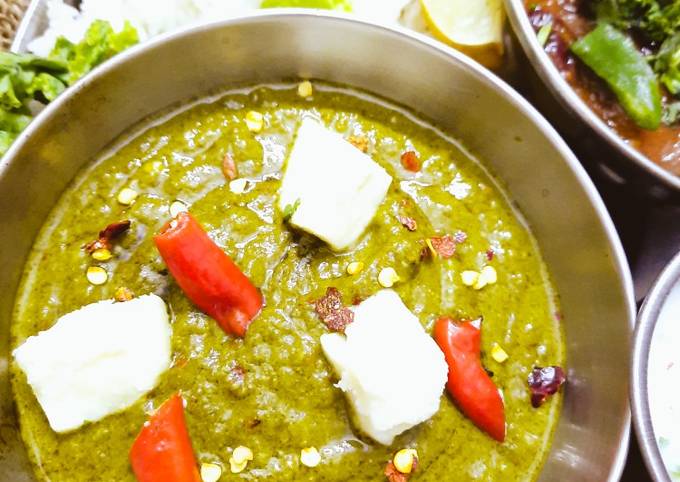 You can cook Palak Paneer using 12 ingredients and 5 steps. Here is how you achieve that.
Ingredients of Palak Paneer
You need 125 gm of Spinach(palak).
It's 2-3 of Garlic cloves.
It's 1-2 of Green Chilli.
It's 1/2 tsp of Fresh Ginger.
You need 2 tbsp of Yogurt(dahi).
It's 2 tbsp of Cream.
You need of Cottage Cheese as required.
It's 1/2 tsp of Salt to taste.
Prepare 1/4 tsp of Red Chilli Powder.
You need Dash of Crush Red Chillies.
Prepare of Garnish.
You need of Red Chillies.
Palak Paneer step by step
Wash spinach leaves.cut off stems from lower ends.blanch in boiling water for 2-3 minutes with ginger & garlic then drain hot water & dip in cold water.this helps in retaining colour of spinach..
Add spinach ginger garlic green chilli in blender & blend to smooth paste..
Add this paste in pot & cook at medium flame till moisture evaporates & colour changes as well.add spices mix in yogurt and cook.do taste for salt.
When dahi is all blended in paste & masala aroma emits.add 1/2 cup water to make gravy.give it a quick boil & then cook at medium flame till desired consistency.lastly add cream stir in well.after adding cream do not cook much..
Add the cubes of cottage cheese in end with red chillies close flame after 2 minutes. Sprinkle crush red chillies in end.serve with boil rice or chapati..