Palak paneer.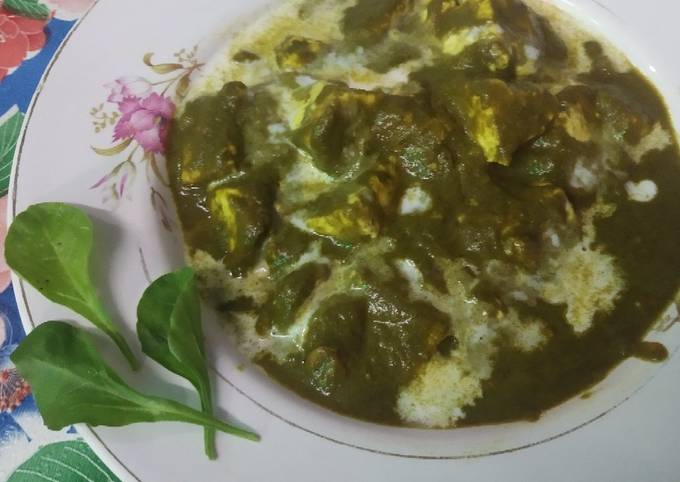 You can cook Palak paneer using 11 ingredients and 10 steps. Here is how you achieve it.
Ingredients of Palak paneer
You need 2 bunches of spinach.
Prepare 300 g of cottage cheese (paneer).
Prepare 2 table spoon of oil.
It's 4-5 of medium sized tomatoes.
It's 8-10 of finely chopped garlic cloves.
It's 1 teaspoon of garlic paste.
It's 1 1/2 teaspoon of red chilli powder.
Prepare 1 teaspoon of turmeric powder.
It's as per taste of Salt.
Prepare as required of Cooking Cream.
You need as needed of Water in grinding and boiling the palak.
Palak paneer instructions
Boil the palak.. And grind it to a fine paste…
Then heat oil in a pan, add garlic cloves to it…
When garlic cloves are golden brown in colour..then add finely chopped tomatoes…
After cooking for 2-3 mins add red chilli, salt and turmeric to it.. Mix well and roast the spices till they turns aromatic…
Then add the garlic paste and palak paste to it…
Mix well.. and cook.. Keep stirring it in every one or two minutes…
When it is almost done..add the chopped cottage cheese to it…
Cook for 2 more mins…
Then switch off the flame and add some cooking cream to it…
Take it out in a serving plate add some more cream to it and serve with naan or chapati😋…