Palak Paneer.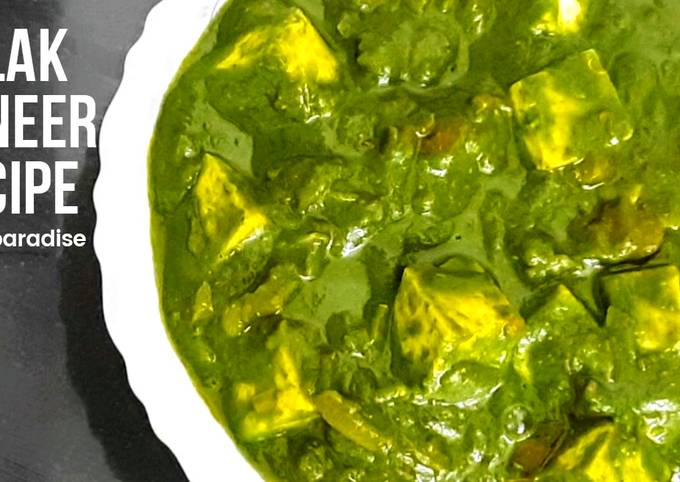 You can cook Palak Paneer using 18 ingredients and 4 steps. Here is how you achieve that.
Ingredients of Palak Paneer
It's 250 gms of Spinach.
Prepare 2 of medium sized tomato finely chopped.
It's 2 of medium sized onion finely chopped.
It's 5 pods of garlic.
It's 1 inch of piece of ginger.
It's 1 of green chilli.
You need 1 tsp of turmeric powder.
It's 1 tsp of red chilli powder.
Prepare 1 tsp of coriander powder.
Prepare 1 tsp of garam masala.
It's to taste of Salt.
It's 1 of Bay leaf.
You need 2 of cloves.
It's 5-6 of whole black pepper.
It's 1 of small piece of cinnamon.
It's 1 tsp of cumin seeds.
Prepare 1 litre of Ice Cold water.
It's 250 gram of paneet.
Palak Paneer step by step
Wash spinach properly so that no dirt remains. Now Boil 1 litre water in a pot and add spinach to it, let the spinach boil for about 2 to 3 minutes. Now turn off flame and transfer boiled spinach into a ice cold water. This process is called blanching. By doing this spinach does not leave it's color..
Now we will add our cool spinach in a grinder jar, add ginger, garlic and green chilli to it and grind it into a fine paste..
Take a wok, heat two tsp oil. Add cumin seed, bay leaf, cloves, black pepper and cinnamo stick to it. Now we will add onion and saute it till it becomes translucent. Add tomatoes and add little bit of salt to soften tomatoes. Add turmeric, red chilli and coriander powder, After 3 to 4 minutes tomato onion is cooked well. Add spinach puree to it and remaining salt. Salt is preferred to add according to your taste, add paneer, cook for 5 minutes on low to medium flame after covering lid..
After 5 minutes add garam masala. Our palak paneer is ready to serve..