Home made whole-wheat muffins. This delicious muffin makes wholesome eating fun. This muffin is low in fat, and has good carbs and lots of fiber. It's great for heart health and wonderful for diabetics because of the oats, fiber, and low fat.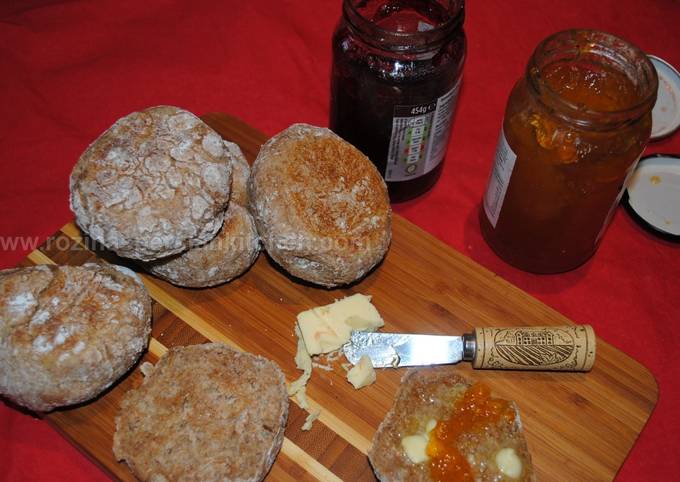 In a large bowl, mix together the flour, sugar, baking powder, baking soda and salt. In another bowl, whisk together the melted butter, banana, egg and buttermilk. Fold wet mixture into dry mixture. You can have Home made whole-wheat muffins using 7 ingredients and 27 steps. Here is how you achieve that.
Ingredients of Home made whole-wheat muffins
It's 350 g of whole-wheat flour.
It's 100 g of plain flour.
You need 5 g of salt.
You need 7 g of dried yeast.
It's 200 ml of warm milk.
Prepare 150 ml of warm water.
It's of extra flour for dusting.
Line the muffin tin using paper baking cups or use cooking spray to coat the bottom of the muffin tin. Using an electric mixer, cream together the margarine, granulated sugar, brown sugar, and baking soda, scraping the bowl with a spatula. In a separate small bowl, using a fork, beat together the egg and vanilla. Prepare a muffin pan with liners, or by lightly greasing each well with olive oil or baking spray.
Home made whole-wheat muffins step by step
Put the whole-wheat flour and plain flour in a bowl, add salt and mix well. Add dried yeast into the bowl and mix again. Make a well in the centre of flour. Pour warm milk and water and mix with your hand..
.
.
.
You will have a soft and sticky dough. Knead the dough with your hand for 10 minutes. If is very sticky add some whole -wheat flour until it is soft and slightly sticky..
.
Cover the dough with a kitchen towel until doubled in size (about 1-2 hours)..
Once the dough rise, punch down the dough to make it flat and knead again for 5 minutes. Put the dough back inside the bowl and leave to rise (about 30 minutes)..
On the floured surface, divide the dough into 8 portions and shape each piece into a ball. Sprinkle them with plain flour.
And cover them with kitchen towel and leave to rise in a warm place for another 30 minutes.
Heat the pan and put muffins. Cook the muffins slowly about 12 minutes and then flip over and let to cook other side for 12 minutes..
.
.
.
.
.
.
.
.
.
.
.
.
.
.
.
.
In a large bowl, lightly whisk together the flour, baking soda, salt, cinnamon and ginger. In a separate small bowl, whisk the sour cream, honey, egg, olive oil, and vanilla extract. In a large bowl whisk together the all purpose flour, whole wheat flour, salt, and baking powder. In a medium bowl whisk together the buttermilk, egg, oil, honey, and vanilla until combined. Add the wet ingredients into the dry ingredients and stir just until smooth.