Palak paneer.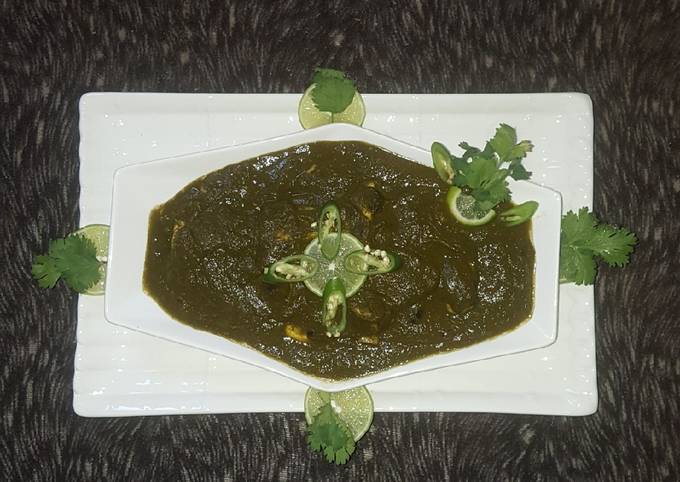 You can have Palak paneer using 13 ingredients and 6 steps. Here is how you achieve that.
Ingredients of Palak paneer
It's 300 g of paneer.
It's 300 g of spinach.
It's 1 of tomato,halved.
Prepare 1/2 of green chilli,stalk removed,plus extra,sliced,to serve.
It's 1 1/2 cm of pics of ginger,peeled and roughly chopped.
It's 1 tsp of garam masala.
Prepare 1/4 tsp of turmeric.
It's 2 tbsp of olive oil.
Prepare 1 of small red onion,finely chopped.
It's 1 tsp of cumin seeds.
You need 4 of garlic cloves,finely chopped.
It's 1 tsp of caster sugar.
Prepare of Lime wedge and coriander leaves,to serve.
Palak paneer instructions
Submerge the paneer in just-boiled water and leave it to soften for 10 minutes. This will give it a lovely homemade texture. Cut into small cubes and set to one side..
Meanwhile, blanch the spinach for 30 seconds in a pan of boiling water. Drain very well and put in a blender. Chuck in the tomato, chilli, ginger, garam masala, turmeric and a good pinch of salt. Blend until you have a lovely vibrant green sauce. You don't need to add any water here, just be patient..
Heat the oil in a pan over a medium heat. Add the onion and stir-fry for 3-4 minutes, until a little golden. Add the cumin seeds and garlic and stir-fry for 1-2 minutes, until fragrant..
Pour the spinach sauce into the pan and add the sugar. Swirl 50ml of water around the blender and tip into the sauce. Mix well. Bring to the boil, reduce the heat to low and cook, stirring occasionally, for 10 minutes so that the flavours can marry together and the sauce thickens slightly..
Check the seasoning and add salt to taste..
Tip the paneer into the pan. Mix well and cook for 2-3 minutes until warmed through. Serve immediately with sliced chilli, lime and coriander..