Summer Vegetable Pisto 🌱 (Spanish Veggie Stew). Spanish Pisto – Spanish Vegetarian Stew. Pisto, sometimes called Spanish ratatouille, is a simple vegetarian stew that's perfect for using up your abundance of summer vegetables. Pisto is another one of those recipes that has a multitude of variations.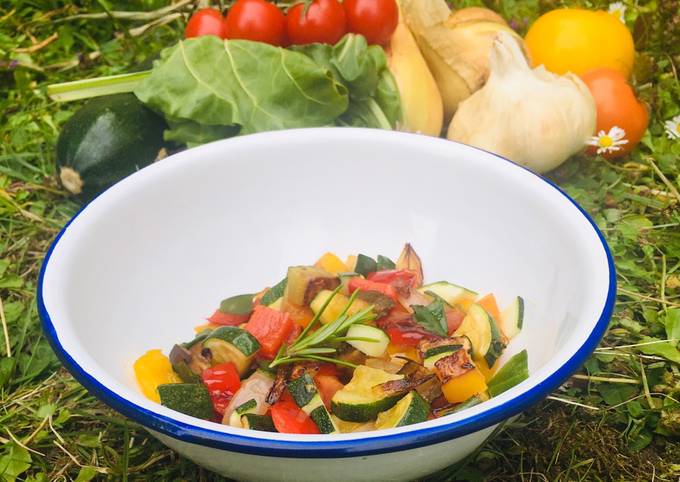 It's a hearty vegetable stew made with eggplant, zucchini, onion, tomatoes, red and green peppers, and lots of olive oil. This is one of my favorite late summer one-pot-meals when bell peppers (capsicum) and zucchini are in season. Of course, this can be prepared all year long, as all ingredients are available in all seasons. You can cook Summer Vegetable Pisto 🌱 (Spanish Veggie Stew) using 12 ingredients and 4 steps. Here is how you achieve it.
Ingredients of Summer Vegetable Pisto 🌱 (Spanish Veggie Stew)
It's of Peppers (any/all colours).
You need 1 of white onion.
Prepare 1 of red onion.
It's 1 of medium courgette.
It's 1 of aubergine.
Prepare of Tomatoes (any size and colour).
You need 1 sprig of Rosemary.
You need 1 sprig of thyme or a few basil leaves (or any other herbs you have growing in the garden).
It's 1/2 teaspoon of sweet paprika.
Prepare of Olive oil.
It's 2 cloves of garlic – sliced.
Prepare 1 handful of seasonal greens.
Great recipe for Summer Vegetable Pisto 🌱 (Spanish Veggie Stew). To me, this dish is a like a Spanish version of my Ratatouille. I've made this a really green version for my cookbook. It has so many lovely, fresh seasonal vegetables, garlic and herbs from the garden.
Summer Vegetable Pisto 🌱 (Spanish Veggie Stew) instructions
Wash and chop the veggies into fairly small chunks..
Heat a little oil in a pan to a medium heat. At the onions and fry until almost translucent. Add the chopped garlic and the same..
Add the herbs and then veggies in the order they will cook – the aubergines will take the longest, then courgette and peppers..
Grate some of your tomatoes to create a sauce. Add the paprika chop the remaining tomatoes and add to the pan..
A top tip is not to overcook. Pisto is the Spanish version of the ratatouille of France, the caponata of Italy or the imam bayildi of Turkey. It is a hearty stew consisting of a variety of vegetables. The key is good quality olive oil and fresh, seasonal vegetables, as with the other Mediterranean vegetable stews. Then place with the other cooked vegetables.