Vegan chorizo and veggie stew. Find Spanish Sausages Including Chorizo, Morcilla, Butifarra, & More At Tienda.com! Vegan Spanish potato and chorizo stew, a plant-based version of a classic Spanish recipe, made with our vegan tofu chorizo, which is also gluten-free. This is a really nutritious recipe as it includes protein from the tofu, carbs from the potatoes and also veggies.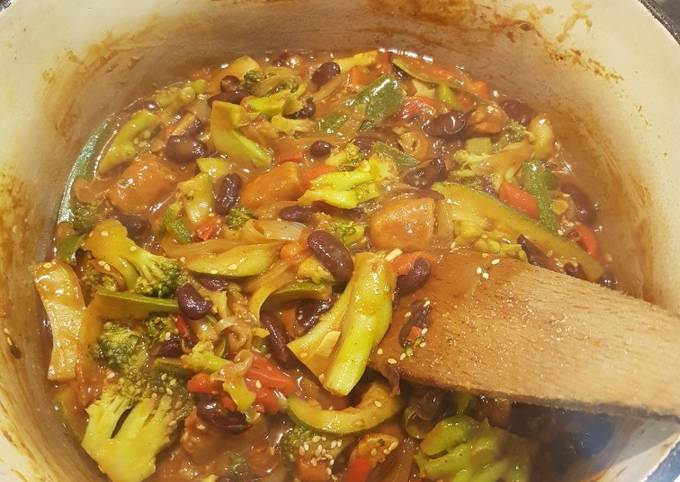 Vegan chorizo, plenty of veggies, green lentils and smoked paprika make this a nourishing and comforting dish. Whenever we travel in a country we love to pick up local produce and cook up a storm in our tiny campervan kitchen. A winter dish truly living up to the name. You can cook Vegan chorizo and veggie stew using 12 ingredients and 4 steps. Here is how you achieve that.
Ingredients of Vegan chorizo and veggie stew
It's 4 of vegan chorizo sausages (I used Saunsburys) quartered.
You need 1 tin of kidney beans.
Prepare 1/2 bag of frozen broccoli defrosted (can also use fresh boiled).
It's of Juice of half a lemon.
Prepare 1 tsp of smoked paprika.
You need 2 of jarred roasted peppers chopped.
You need 1 of red chili chopped.
You need 1 tsp of sweet paprika.
You need 2 cloves of garlic peeled and sliced.
You need 1 of onion sliced.
Prepare 1 tbsp of oil.
It's of Salt and pepper.
If chorizo is a little too intense spice-wise for you, please just go for your favorite vegan sausage. Lovely combination of tastes and it's perfect if you want quick dinner. I really enjoyed in this meal! Heat the olive oil in a large skillet over medium heat.
Vegan chorizo and veggie stew step by step
Prepare all the ingredients.
Heat a pan with the oil, onions and garlic till softened. Add the chorizo and cover to brown, about 4mins, uncovering to turn the chorizo half way..
Add the kidney beans and both types of paprika and cook for a further 3 minutes covered. Add a splash of water if the mixture dries out..
Add the rest of the ingredients and cook till thick. Season well with salt and pepper..
When the oil is shimmering, add the mushroom and chickpea mixture to the pan. Sprinkle in the paprika, garlic powder, cumin, oregano, salt, smoked paprika, coriander, chili powder, pepper, onion powder, red pepper flakes, and cinnamon. Instructions Add the chopped onion to the pot with the olive oil and sauté the onions until softened. Add in the crushed garlic, dried thyme, rosemary and oregano and sauté with the onions. Add the sliced mushrooms, diced carrots and diced celery and toss with the onions and spices.