Peach Cobbler. Fill Your Cart With Color Today! This peach cobbler is easy to make and very decadent. The use of store-bought cinnamon rolls makes it even faster to make.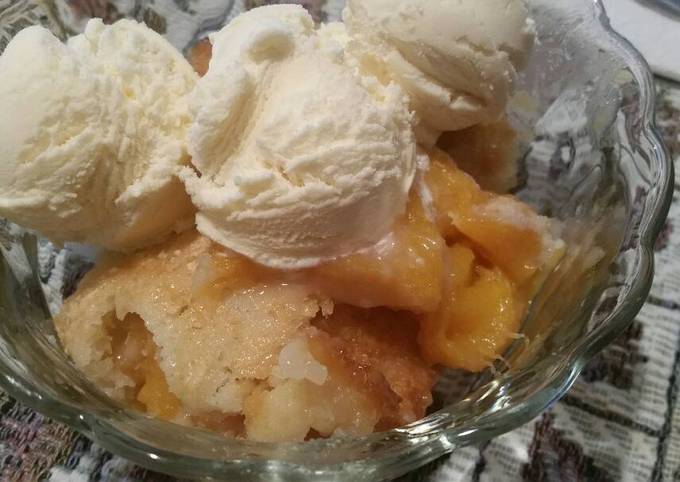 In the oven, the sweet batter rises through the peaches, creating a light and airy cake-like. This is a good peach cobbler – just the right spices and sweetness. You should note however the amount of baking powder – this is a very "cake-like" cobbler. You can have Peach Cobbler using 8 ingredients and 6 steps. Here is how you cook it.
Ingredients of Peach Cobbler
Prepare 2 Cups of fruit.
You need 1/2 Cup of sugar.
You need 1 stick of butter.
Prepare 1 Cup of flour.
It's 3/4 Cup of sugar.
You need 2 teaspoons of baking powder.
Prepare 1 pinch of salt.
You need 3/4 Cup of milk.
Also, the amount of cinammon-sugar on the top makes it very hard to tell when it is "golden brown". "very thin" slices of peach also lead to a less chunky peachy cobbler than I really like. I know some cobbler recipes call for a pie crust on top, but technically, fruit topped with irregular pastry is called a pandowdy. Think top crust only pie, but a little more "shabby-chic". Sometimes the batter in a cobbler is dolloped into the pan by large spoonfuls, giving at an appearance more like cobblestones.
Peach Cobbler step by step
Mix 1/2 cup of sugar in a bowl with fruit and set aside..
Preheat oven to 350° and melt the butter in bottom of 9×13 baking dish..
In a bowl, stir together the flour, 3/4 cup of sugar, baking powder, salt, and milk. Pour this batter over melted butter in baking dish..
At this time, add fruit to the top of batter in baking dish. Bake for 45 minutes or until top of cobbler is browned on top..
45 minutes of baking time was perfect in my oven!.
Serves up great with a couple scoops of vanilla ice cream..
I made this peach cobbler today for the first time and my husband and I loved it. Stir together sugar and peaches; spoon over batter. Peach cobbler is best enjoyed warm, right after it's baked. To reheat peach cobbler, use the microwave or oven. To reheat in the oven, remove it from the fridge and allow it to come to room temperature.