Cherry Peach Cobbler. Delight Your Taste Buds With Easy Southern-Styled Recipes By Kraft®. Cherry Peach Cobbler There's no pitting cherries and peeling peaches when you're throwing together this quick cobbler. It uses convenient canned fruit and purchased pie filling.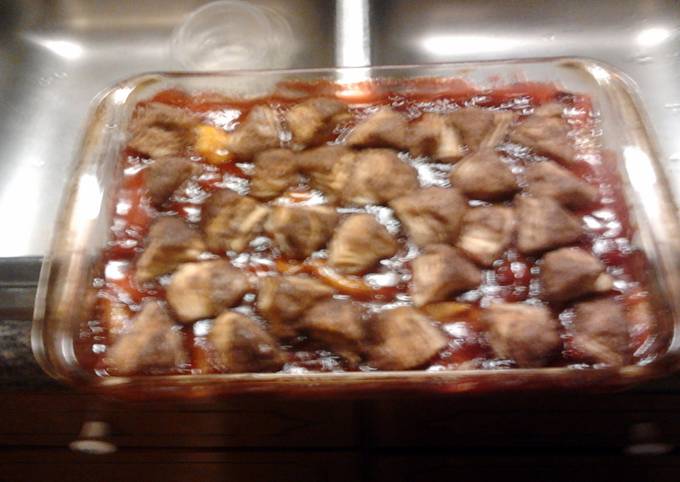 I've actually made Peach and Cherry Cobbler two times in the last month because it is such a hit. Once I even added blueberries to the mix. The cobbler topping isn't overly sweet and has a hint of almond without being overwhelming, while fresh stone fruits don't lose their texture or taste, but instead fossilize. You can cook Cherry Peach Cobbler using 7 ingredients and 7 steps. Here is how you achieve that.
Ingredients of Cherry Peach Cobbler
Prepare 1 of 20 oz. can peach pie filling.
It's 1 of 20 oz. can cherry pie filling.
Prepare 1 of 15 oz. can cling peaches.
It's 1/4 cup of melted butter.
Prepare 1/4 cup of cinnamon.
It's 1 can of Refrigerated Flaky Biscuits.
It's 1/2 cup of Sugar.
Add the peach slices and cherries. Cook and stir until thickened and bubbly. Combine the Peaches, Cherries, Brown sugar, and water in a saucepan and mix well. Reserve a half cup of liquid.
Cherry Peach Cobbler step by step
Pre heat oven to 400 °.
Drain can of cling peaches.
Add cling peaches..
Add both cans of pie filling to 9×13 baking dish..
Seperate biscuits , cut each into 6 pieces. Dip each into melted butter. Roll in cinnamon/ sugar mixture..
Arrange biscuit on top about 1 inch apart..
Bake @ 375° for 25 min. Or until bubbly and biscuits start flaking..
This Cherry Peach Cobbler satisfies our desire for a scrumptious dessert without derailing our health and weight goals. Here is more good news – you can even enjoy this when you are trying to lose weight on a whole food plant based lifestyle. It's scrumptious served hot or cold. Cherries and peaches are a fruit match made in heaven. Add in a bit of butter and a almond flavored cobbler topping and you bliss.