Scalloped Potatoes with Cheddar Cheese. Expand Your Cheese Flavor Experience With Sargento® Cheddar Varieties. Read Customer Reviews & Find Best Sellers. Combine the sauce and potatoes in a bowl.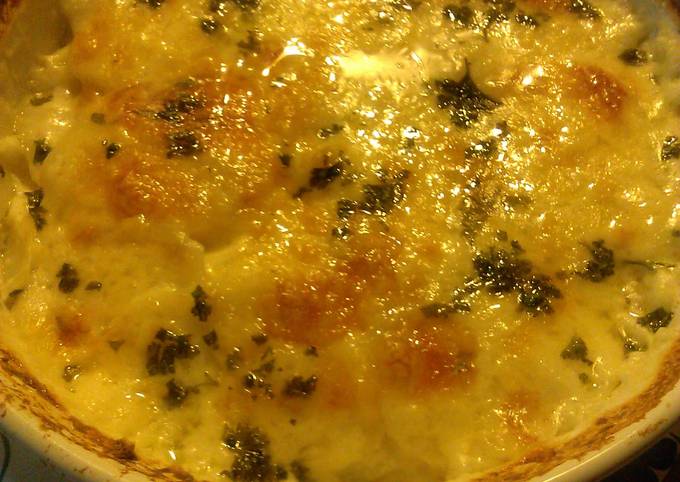 Creamy Scalloped Potatoes: Substitute half-and-half cream for the milk and omit cheddar cheese. Swiss Scalloped Potatoes: Substitute Swiss cheese for the cheddar. These great-tasting scalloped potatoes contain milk, flour, and butter, with a cheddar cheese topping added just before they come out of the oven. You can cook Scalloped Potatoes with Cheddar Cheese using 7 ingredients and 5 steps. Here is how you cook it.
Ingredients of Scalloped Potatoes with Cheddar Cheese
Prepare 4 cup of thinly sliced potatoes.
It's 2 tbsp of all-purpose flour.
Prepare 1 tsp of salt.
Prepare tsp of 1/8 pepper.
It's 3 tbsp of butter.
Prepare 2 cup of scalded milk.
Prepare 1/2 cup of shredded cheddar cheese.
Make these flavorful potatoes to go along with an everyday meal or serve them with your holiday dinner. They are excellent with steaks or roasts, and they go well with fish and seafood dishes. In a small bowl, combine cheeses. Layer half of potatoes in a baking dish and sprinkle with salt and pepper.
Scalloped Potatoes with Cheddar Cheese step by step
In buttered 2 qt. Baking dish. Place a 1/3 layer of potatoes..
In small dish combine flour, salt, pepper..
Sprinkle half of flour mixture over Pot. Repeat with another layer..
Top with remaining Pot. Slices. Dot with butter. Then pour hot milk over Potatoes..
Cover and bake at 375° for 45 min. Uncover. Sprinkle cheese on top Return to oven and bake uncovered fir another 15 min. Or until Pot.are tender. And cheese has melted. ( I cut my pot. With a mandalin and sprinkled a little parsley on top).
Layer remaining potato slices on top of sauce and season. Top with remaining sauce and sprinkle. This will allow cheese to toast up slightly. Scalloped potatoes are ready when a knife inserted into potatoes goes straight through without any resistance. Arrange one layer of sliced potatoes in the bottom of the casserole dish.