Christmas Muffins. In a large bowl, combine the first five ingredients. In a small bowl, beat eggs, oil and vanilla; stir into dry ingredients just until moistened. Fold in carrots, apple, coconut, fruit and raisins.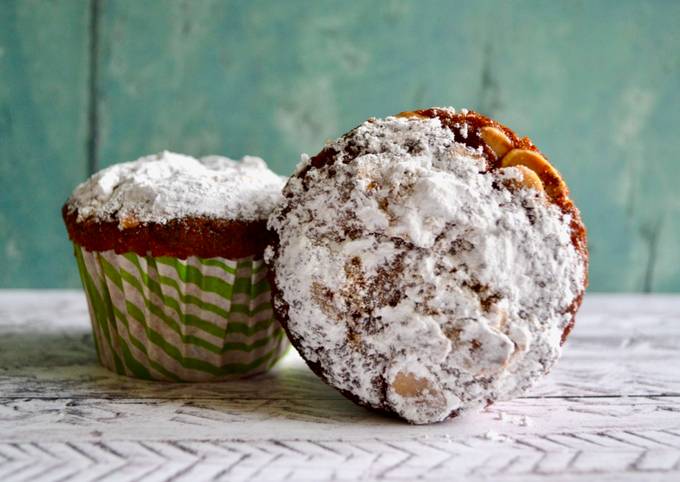 But I love almost every second of it, even with the inevitable bit of holiday whiplash. We're all about fun little traditions around here, and one of those is a fresh batch of muffins on Christmas morning. Making Christmas muffins Whether you want to keep the Kalikatzari out of your house or not, these Christmas muffins are a treat and decorating them lots of fun! You can have Christmas Muffins using 11 ingredients and 5 steps. Here is how you achieve it.
Ingredients of Christmas Muffins
You need of For the muffins:.
Prepare 150 g of dairy free spread.
Prepare 150 g of caster sugar.
You need 3 of eggs.
It's 150 g of gluten free self raising flour.
You need 100 g of Christmas mincemeat.
It's of For the topping:.
Prepare 1 tbsp of brown sugar.
You need 1 tbsp of flaked almonds.
Prepare 1 tsp of ground cinnamon.
It's 1 tbsp of icing sugar.
When they come out, the Christmas muffins already look delicious! Measure the flour, baking powder, bicarbonate of soda, caster sugar, cinnamon and nutmeg into a large bowl; grate the zest of the clementine/satsuma over, and combine. If you are doing this in advance, leave the zesting till Christmas morning. Christmas Morning Casserole Muffins Christmas Morning Casserole Muffins.
Christmas Muffins instructions
Preheat the oven to 180 oC Line a muffin tin with 8 paper cases.
Beat together the caster sugar and dairy free spread until light and fluffy Whisk in the eggs one at a time.
Stir in the gluten free self raising flour and Christmas mincemeat Divide between the 8 muffin cases.
Top a sprinkle of brown sugar, flaked almonds and ground cinnamon Bake in the oven for 20 minutes.
Allow to cool and serve dusted with icing sugar.
From decadent Bananas Foster Coffee Cake with Vanilla-Rum Sauce to blueberry muffins made extra-special with a bright lemon cream cheese glaze, we've got your holiday bread and muffin game covered. Line a muffin tin with liners. In a bowl, whisk together the flour, baking powder, cinnamon and baking soda. In a larger bowl, whisk together the sugar and the eggs until combined. Whisk in the milk and vegetable oil.