Blueberry "Double" Corn Bread. Great recipe for Blueberry "Double" Corn Bread. A moist cornbread with whole corn, blueberries and a touch of sweetness. It's not overly sweet, so still goes well with soups and chili, but can also stand on it's own as breakfast bread or snack.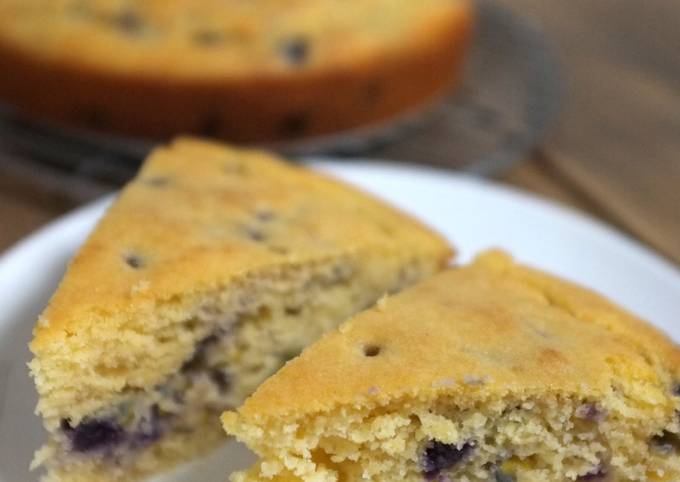 Pour the batter in and smooth out the top so it's level. Dust the blueberries with about a tablespoon of the reserved flour. Gently fold them into the batter. You can have Blueberry "Double" Corn Bread using 11 ingredients and 9 steps. Here is how you cook that.
Ingredients of Blueberry "Double" Corn Bread
It's 125 g of flour (1 U.S. cup).
Prepare 125 g of cornmeal (3/4 U.S. cup).
It's 2 Tbsp of natural cane sugar (or your favorite).
Prepare 2 1/2 tsp of baking powder.
It's 1/2 tsp of salt.
It's 4 Tbsp (60 g) of melted unsalted butter or canola oil.
Prepare 240 ml of milk or yogurt (1 U.S. cup).
It's 2 of eggs.
Prepare 60 g of fresh or unthawed frozen corn (4-5 Tbsp).
You need 60 g of frozen or fresh blueberries (5 Tbsp, I used frozen).
You need of Baking pan: I used a 8 in (21 cm) round baking pan with 2 in (5 cm) high sides.
A moist and delicious cornbread that is also healthy for you. Can substitute other fruit, such as cranberries. This Blueberry Cornbread is a sweeter take on traditional cornbread with fresh blueberries and sweet corn kernels. It's baked in a skillet and served with whipped cinnamon honey butter.
Blueberry "Double" Corn Bread instructions
Preheat oven to 200C/400F..
Mix flour, cornmeal, sugar, salt and baking powder in a large bowl..
In a separate bowl, whisk together the eggs and milk. If using oil instead of butter, mix that in now too..
Pour the egg & milk mixture into the flour. If using butter, pour in the melted butter now. Stir until combined..
In a small bowl, dust the corn and blueberries with a tablespoon of flour to help absorb the extra moisture..
Gently fold the corn and the blueberries into the batter..
Grease the baking pan with oil or butter. Pour the batter in and smooth out the top so it's level..
Bake for 25-30 minutes at 200C/400F, or until a skewer poked in the middle comes out clean. (A good sign is that the top is starting to turn golden brown) Depending on your oven and exact size of the pan, the time could differ so start checking after 20 minutes. Mine took almost 30 minutes in a 8 in (21 cm) cake pan with 2 in (5 cm) sides..
Let cool for a few minutes. Serve warm with soup, chili or works well as a breakfast bread!.
Hi, I'm back with more cornbread goodness. Combine corn muffin mix, sugar, salt and stir well to break up lumps. This corn bread is a little on the sweet side. It's made with white cornmeal, but yellow works too. I learned to make it from my other mom (MIL).