Strawberry Choc Chip Mini Pancake Muffins. These mini strawberry chocolate chip muffins are light and fluffy and filled with sweet pieces of fresh strawberry and mini chocolate chips. They're also healthy enough that I don't feel bad about having more then one — or letting the kids do so!. It's the perfect snack to pop into their lunch boxes for school — healthy enough to give them some energy but sweet enough they feel like they.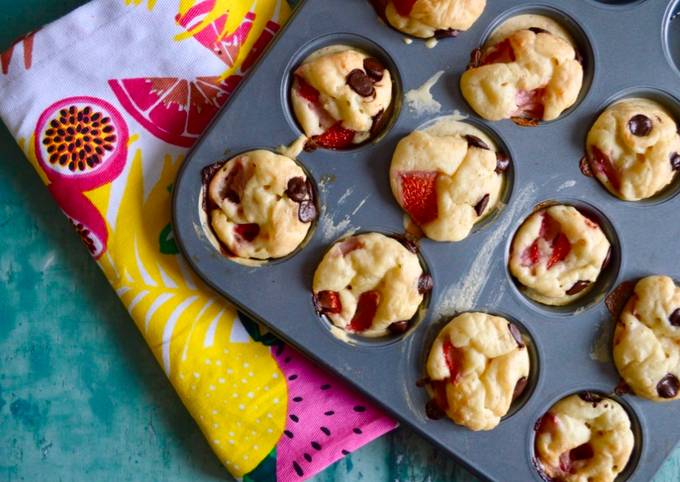 Press the remaining strawberry chunks and chocolate chips. They're Strawberry Mini-Muffins with a yummy, tart strawberry butter to spread on them when they're warm. That's the breakfast/muffin approach…but you could also sift some powdered sugar into the strawberry butter when you mix it up to make it more of a sweet butter (also known as FROSTING. You can cook Strawberry Choc Chip Mini Pancake Muffins using 6 ingredients and 2 steps. Here is how you cook that.
Ingredients of Strawberry Choc Chip Mini Pancake Muffins
Prepare 100 g of gluten free self raising flour.
Prepare 1 tablespoon of caster sugar.
It's 1 of egg.
It's 100 ml of dairy free milk.
You need 1 tablespoon of dairy free dark chocolate chips.
You need 6 of strawberries chopped.
Whisk together the egg, vanilla, vegetable oil, and yogurt. Pour the wet ingredients into the dry ingredients, and mix until just combined. Gently fold in the strawberries and chocolate chips. Spray mini muffin tins with nonstick spray.
Strawberry Choc Chip Mini Pancake Muffins step by step
Preheat the oven to 180 oC Grease a mini muffin or pie tin Whisk together the flour, sugar, egg and milk until you have a smooth batter Spoon into the mini muffin tin so each cup is 3/4 full of mixture.
Top with the chocolate chips and strawberries Bake in the oven for 10-12 minutes Serve dusted with icing sugar or drizzled in maple syrup.
Stir together flour, oats, sugar, baking powder and soda, and salt in a bowl. Add the eggs, buttermilk, and melted butter and stir until just combined. Gently stir in mini chocolate chips, then spoon into prepared pans. Lightly beat egg in a separate bowl; stir in milk, vegetable oil, and vanilla extract. Mix liquid mixture into flour mixture until incorporated.