Cheese And Ham Muffins. Stir in Bisquick mix, milk and oil just until moistened. Divide batter evenly among muffin cups. In a large bowl, combine flour and baking soda.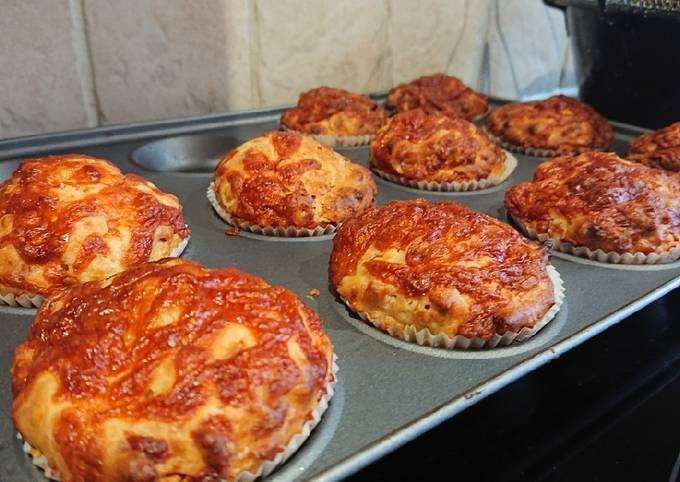 Beat eggs, buttermilk or yogurt, and oil in a medium bowl. Add dry ingredients to the wet and stir to moisten. SPOON into the prepared muffin tins. You can have Cheese And Ham Muffins using 6 ingredients and 8 steps. Here is how you cook it.
Ingredients of Cheese And Ham Muffins
You need 225 g of self-raising flour, sifted.
Prepare 160 g of chedder cheese, grated.
You need 175 g of whole milk.
It's 60 g of ham slices, roughly chopped.
Prepare 1 of egg.
Prepare 50 ml of olive oil.
In a bowl, combine cheese and biscuit mix. Stir in milk and egg just until moistened. Fold in ham and onion mixture. Coat muffin cups with cooking spray or use paper liners; fill three-fourths full.
Cheese And Ham Muffins step by step
Preheat oven to 200c..
Add muffin cases to a 12 muffin mould or brush the moulds with oil..
In a large bowl add the flour, 120g of the cheese and the ham. Mix it all together..
In a different bowl whisk together the milk, egg and olive oil. Add to the flour and stir to combine..
The batter should be quite thick and easily picked up with a tablespoon..
Divide the batter into 10- 12 moulds and top each one with the remaining cheese..
Bake for around 20 minutes or until golden brown and fully cooked through..
Serve warm or cold..
In a bowl, combine flour, baking powder, salt, pepper and garlic powder. In another bowl, combine eggs, milk and mustard. Add the sautéed onion, ham and cheese. Stir the wet mixture into the dry mixture just until moistened, don't over stir! Beat the egg in a bowl with the milk.