Chicken and Prawn Curry with Tamarind.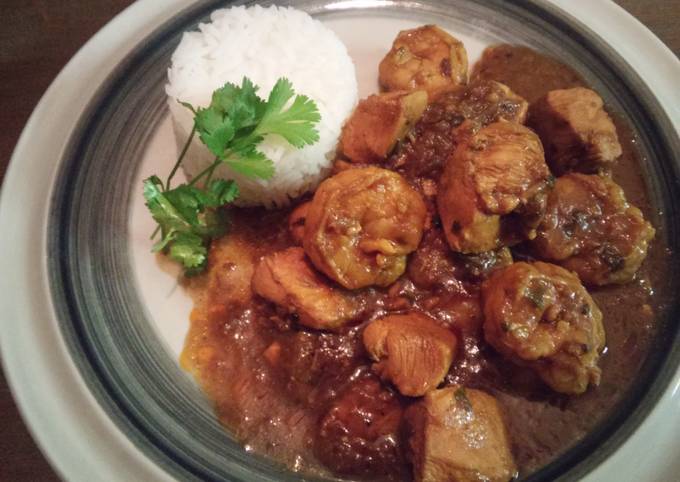 You can cook Chicken and Prawn Curry with Tamarind using 17 ingredients and 10 steps. Here is how you achieve that.
Ingredients of Chicken and Prawn Curry with Tamarind
Prepare 6 of chicken breasts, cubed.
It's 1 kg of large prawns, shelled and deveined.
It's 3 tbsp of oil – I use sunflower oil when making a curry.
Prepare 1 of medium onion, finely chopped.
It's 1/2 tsp of mustard seeds.
You need 1 tsp of cumin seeds.
Prepare 6 of whole peppercorns.
It's 4 of cloves.
Prepare 6 of curry leaves.
You need 1 of bay leaf.
It's 1 tbsp of (heaped) ginger, garlic, chilli paste.
Prepare 1 tbsp of curry powder (more can be added as per your preference).
Prepare 1/2 tsp of tumeric powder (hurdee/ haldi).
You need 3 of large tomatoes, grated (discard skins).
You need 1 tbsp of corriander powder.
You need 1 cup of tamarind "sauce" about 15 – 20 grms dissolved in a cup of warm water then strained & discarded the seeds & pulp. May be substited with about a tablespoonful of lemon juice. Note: tamarind gives an amazing flavour and thickens the gravy.
It's 1 bunch of fresh corriander, chopped.
Chicken and Prawn Curry with Tamarind instructions
Slightly heat oil in a pan then add in the cumin, mustard seeds, cloves, peppercorns and onion..
Sautè until onion changes colour to a light golden brown..
Add in curry leaves and bay leaf..
Mix in ginger, garlic and chilli paste. Followed by curry powder and tumeric powder..
Add grated tomato and allow to cook through..
Mix in the corriander powder..
Once cooked, add in tamarind sauce and allow to simmer for a few moments..
Mix in chopped corriander..
Place cubed chicken into gravy. When almost done, add in the prawns and allow to cook through..
Serve with basmati or other rice of choice..