Cheesesteak Totchos.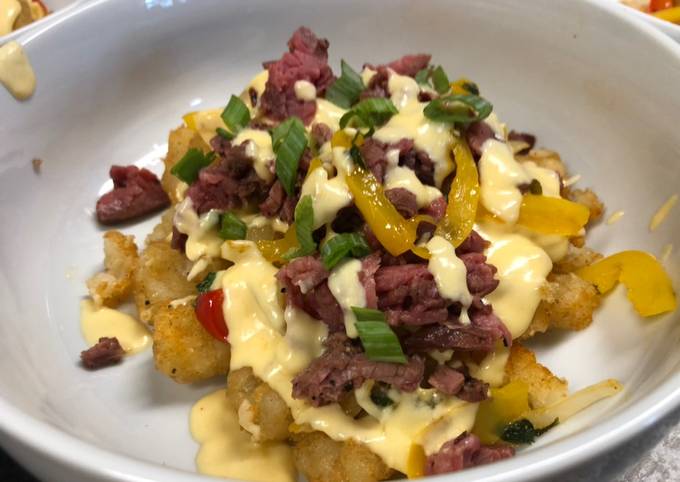 You can have Cheesesteak Totchos using 22 ingredients and 12 steps. Here is how you achieve that.
Ingredients of Cheesesteak Totchos
You need of Cheesesteak.
You need 1 lb of Flank Steak.
You need 2 c of Shredded Chicken, frozen.
Prepare 2 tbsp of Kosher Salt.
You need 2 tbsp of Coarse Black Pepper.
You need 1 tbsp of Garlic Powder.
Prepare 1 1/2 tbsp of Ground Cumin.
Prepare 1 1/2 tbsp of Smoked Paprika.
Prepare of Cheese Sauce.
It's 1/2 c of Shredded Cheese blend.
It's 1/4 c of Heavy Cream (add additional to keep creamy as needed).
You need Pinch of Crushed Red Pepper.
Prepare of Toppings.
Prepare 1 of large (1 cup) onion, thinly sliced.
You need 1 of small (1/2 cup) red bell pepper, cut into thin strips.
It's 1 of small (1/2 cup) yellow bell pepper, cut into thin strips.
It's 1/4 c of Green Onion, chopped.
It's 1/8 c of Cilantro, coarse chopped.
Prepare 3 Cloves of Garlic, diced.
Prepare 2 tbsp of Vegetable Oil.
You need of Tater Tots.
It's 4 c of Frozen Tater Tots.
Cheesesteak Totchos step by step
Prep the veggies.
.
Set the traeger for 225° and bring to temp. Meanwhile, pat the outside of the flank steak dry, mix the seasonings and liberally rub all over (reserving about 1/4 for the chicken and tots)..
Place in traeger and let smoke roughly 1hr and temp. Check back every 5-7min until 130° internal temp..
Remove and let rest. Approx 10-15min with aluminum foil covering it to maintain heat..
Meanwhile, Heat oil skillet over medium heat; garlic and onions. Cook, stirring occasionally, 2-3 minutes or until just beginning to soften. Add bell pepper strips. Continue cooking, stirring occasionally, 3-5 minutes or until beginning to brown. Stir in cilantro and remove from heat..
Combine cheese, heavy cream and ground red pepper in 2-quart saucepan. Cook over medium-low heat, stirring occasionally, until melted and smooth..
For the shredded chicken, follow directions on bag which usually consists of putting in skillet frozen and heating it to temp. I generally drizzle a bit of olive oil over the chicken and add some of the dry rub seasoning as it get closer to temp..
For the tater tots, add oil to fryer (unless baking in oven), heat to 375° and fill basket just under half way. Toss often to keep from sticking. Remove and sprinkle dry rub seasoning..
After the steak has rested slice into thin strips, and chop into smaller pieces. Reserve rest for later..
Plate the tater tots, drizzle cheese sauce, add some veggies and steak or chicken, drizzle more cheese sauce and top with a few more veggies. Sprinkle green onion over it..
Serve and enjoy!.