Lyhnarakia (sweet cheese pies) from Chania. Lihnarakia are the sweet cheese pastries that come from the island of Crete. They're sold in most bakeries all year long and made in homes during Easter-time. Follow my easy recipe to enjoy with tea or coffee.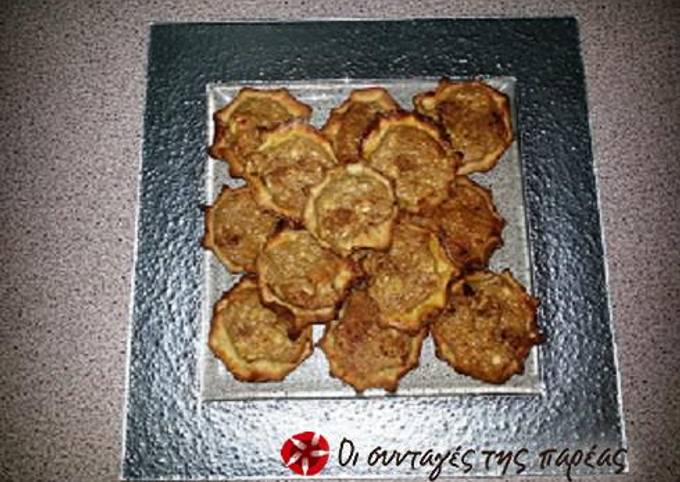 They are called Lihnarakia and they basically consist of a sweet pastry enclosing a lemony, sweet, cheesy filling. And of course, with a good sprinkle of cinnamon on top. See recipes for Khajoor anjeer nuts chania choli cake, Dakos from Chania too. You can have Lyhnarakia (sweet cheese pies) from Chania using 18 ingredients and 11 steps. Here is how you achieve it.
Ingredients of Lyhnarakia (sweet cheese pies) from Chania
You need of For the dough.
You need 25 g of fresh yeast.
It's 1/3 cup of lukewarm milk.
Prepare 4 cups of all purpose flour.
Prepare 1/2 cup of olive oil.
It's 2/3 cup of sugar.
It's 2 of eggs beaten with a bit of salt.
Prepare 250 g of strained yogurt.
Prepare of For the filling.
Prepare 800 g of unsalted mizithra.
It's 2 of egg yolks.
It's 1 of vanillin (powder).
It's 2 tbsp of honey.
You need of zest of one lemon.
Prepare 1 tbsp of cinnamon.
It's 2 tbsp of unsalted butter.
You need 6 tbsp of sugar.
You need 1 of egg yolk beaten with a bit of water for brushing.
Knead them all together well and let the dough rise. Sfakianopita is a traditional Cretan treat that couples layers of thin, unleavened dough and soft white whey cheese. The pie is typically made with flour, olive oil, water, salt, and a shot of raki (Cretan tsikoudia), and rather than being filled with local myzithra cheese, the dough is kneaded with the cheese. The whole combination is then flattened out into a thin, almost crepe-like or.
Lyhnarakia (sweet cheese pies) from Chania instructions
Dissolve the yeast into the milk and add flour so that you get a thick batter which you leave to rise for half an hour..
Beat the oil with the sugar in a bowl and add the yolks, salt, yogurt and the thick batter that has already risen. Mix well..
Gradually add the rest of the flour and knead on a dusted surface (so that it gets kneaded better)..
Cover the dough and let it rest..
Meanwhile prepare the filling..
Crumble the cheese with a fork and add to the rest of the ingredients mixing well..
Roll out the dough to a thick sheet and cut into circles using a small plate..
Place a spoonful of the filling in the center and raise the sides of the dough pinching them so that you make a small tartlet..
Brush with the egg and sprinkle with cinnamon..
Place the lyhnarakia on a baking tray lined with partchment paper..
Bake in a preheated oven at 180 degrees for half an hour (until they are golden brown) using the convection element..
These delectable cheese pastries are served throughout Crete. The best, in my opinion, are served in sunny villages scattered throughout the White Mountain Range on the drive from Chania to Sfakia. There, they are served with a drizzle of the local thyme honey. In more urban centers, many just sprinkle with sugar and cinnamon. The picturesque village of Loutro is situated south of Chania in the Libyan sea.