The Firehouse Supreme Grilled Cheese.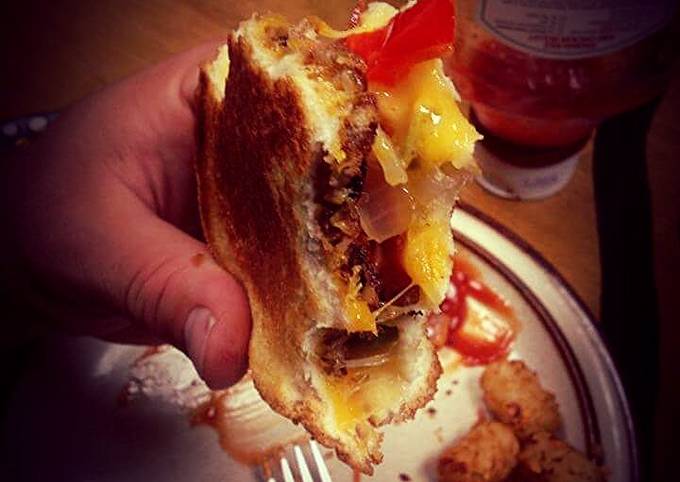 You can have The Firehouse Supreme Grilled Cheese using 15 ingredients and 13 steps. Here is how you cook it.
Ingredients of The Firehouse Supreme Grilled Cheese
You need of Sandwich Ingredients.
Prepare of Bread of Choice (lots of ingredients so make sure it'll hold up).
You need of Thick Sliced Bacon.
It's of Goetta or Scrapple (name differs depending on location, if you have neither you can substitute with sausage patties).
Prepare of Sliced Colby Cheese.
You need of Sliced Pepper Jack Cheese.
Prepare of Sliced Cheddar Cheese.
Prepare of green peppers, chopped.
It's of red pepper, chopped.
Prepare of onion, chopped.
You need of Jalapeno, chopped.
You need of Butter.
Prepare of salt.
You need of black pepper.
Prepare of Side of choice (French fries, tatter tots, etc).
The Firehouse Supreme Grilled Cheese step by step
Chop onions and all peppers and saute in skillet. Add salt and pepper to taste. Do this first so it can saute while you prepare bacon and Goetta/Scrapple..
Cook bacon in skillet. I prefer it crunchy – seems to work better in a sandwich. Set aside when finished..
Cook Goetta or Scrapple in another skillet. Again I prefer this a little over cooked as well..
Prepare bread for sandwiches. Lay each slice of bread out on a tray and butter them so they'll be ready to create the sandwich..
Once all ingredients are ready, start by laying a slice of cheddar on the bottom..
Add Goetta/Scrapple on top of Cheddar..
Add Pepper Jack slice on top of Goetta/Scrapple..
Add Bacon on top of Pepper Jack slice..
Add sauteed peppers and onions on top of bacon..
Top with slice of Colby jack cheese and prepare sandwich for skillet..
Pre-heat skillet. Spray with Pam and make sure both sides of sandwich are buttered..
Cook as you would any grilled cheese, until cheese is melted and both sides are brown. Beware, sandwich will be rather large so take easy care when flipping sandwich..
Enjoy with fries or tater tots!.